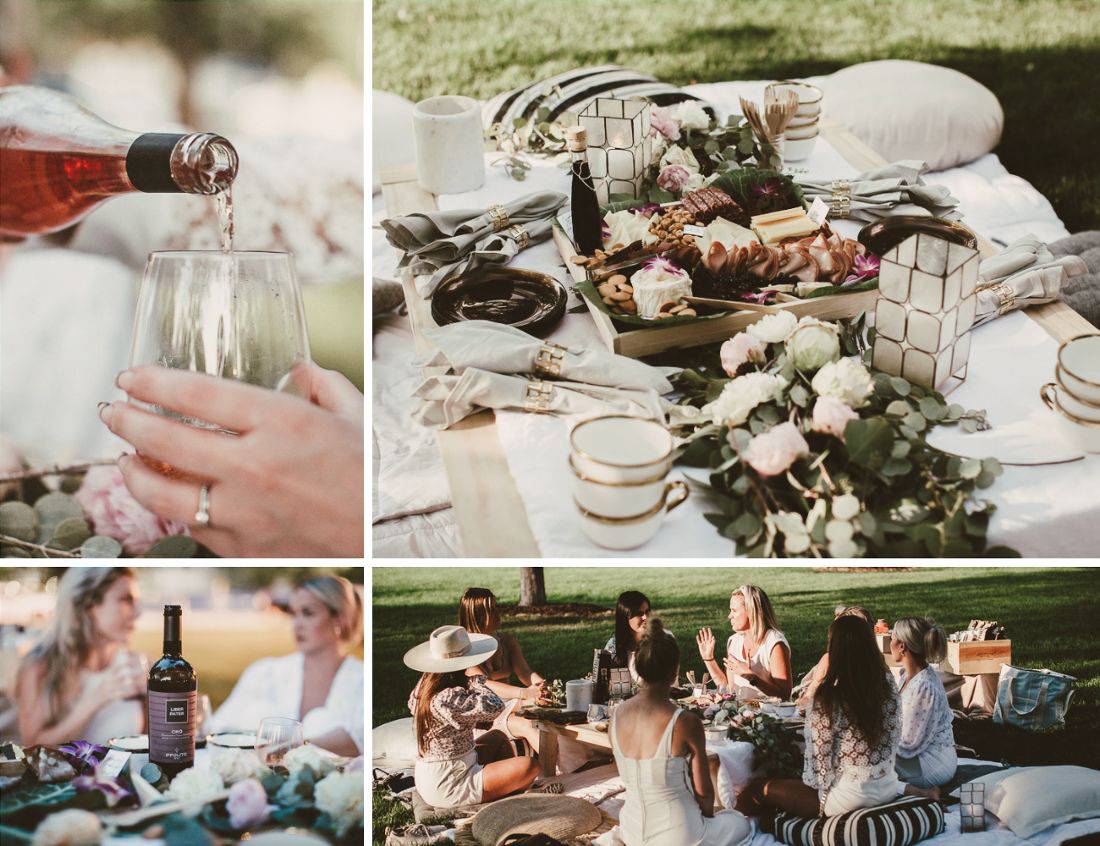 Photo: David Simeng Zhang
It may officially be September, but the breeze is still warm and the grass is still green. Outdoor hangouts live on!
We have loved taking wine to the park this year and think we've perfected the perfect outdoor wine gathering formula. Read on for 5 things to bring on your next cozy, outdoor wine gathering. Make it your own and tag us in your photos! We'd love to see your style.
LIGHTING


Candles and lanterns: Don't forget about lighting! If you're picnicing into the evening, set your table with a few strategic lanterns or (electric)candles to light the night. Plus, EVERYONE looks prettier bathed in warm candlelight! Fill your lanterns with these citronella tea lights for a little extra mosquito security.
SEATING + COMFORT


Cushions and pillows: Bring enough soft seating options so that the party doesn't get cut short due to sore booties! We love Home Goods and Target for affordable floor pillows, like this bold and chunky one.
A portable table and blankets: Our project manager's father made the cute, low table you see in the photos above! But if you'd rather purchase something similar, this Etsy store sells some great options with foldable legs. Set up your table over a pretty blanket to contain crumbs and make your seating area extra cozy.
GREAT CHEESE + SNACKS


Cheese: Bring at least three different cheeses made from a variety of milks (cow, sheep and goat). For a simple primer on pairing cheese to wine, check out this post we did back in 2020. And don't forget a great baguette or packages of neutral-tasting crackers!
Snacks: Think about what accompaniments will play well with your cheeses and wines! It's always great to play with textures and variety of flavors: crunchy, gooey, sweet, spicy, etc. Reference this quick post on pairing wine to cheese for more info.

*Make it even easier—check out our gift box company, Cépage, for curated bundles of snacks and cheese accompaniments!
PORTABLE GLASSWARE + UTENSILS


Utensils: Even though a wine and snacks gathering is about eating casually, with your hands, it's important to have a few knives (one for each cheese) and spoons around for dishing things up. We love compostable flatware if possible, for its rustic style and its sustainability. And don't forget some pretty napkins!
Shatterproof glassware: Mimic the refinement of actual stemware with a set of Govino wine glasses. These stemless, shatterproof glasses are light, reusable, BPA-free and make it easy to swirl and sniff whatver wines you're enjoying. Seriously, you'd never know they're not made of glass!
WINE, OF COURSE!


Choose a variety: Go for at least one white and one red (and probably a rosé for good measure) to satisfy a majority of guests. When in doubt, bring a dry Riesling or Gewürztraminer. These two whites have enough fresh acidity to highlight just about anything you're noshing on! You can also peruse our SHOP page. Pay special attention to the "Recommended Pairings" portion of each wine description to see if the wine will play well with your what you're eating.
In the photos above, you'll see we enjoyed Ippolito 1845 Cirò Rosso 'Liber Pato' Gaglioppo (Italy) and Bodegas Ostatu Rosado (Spain).
And finally, don't forget a corkscrew!