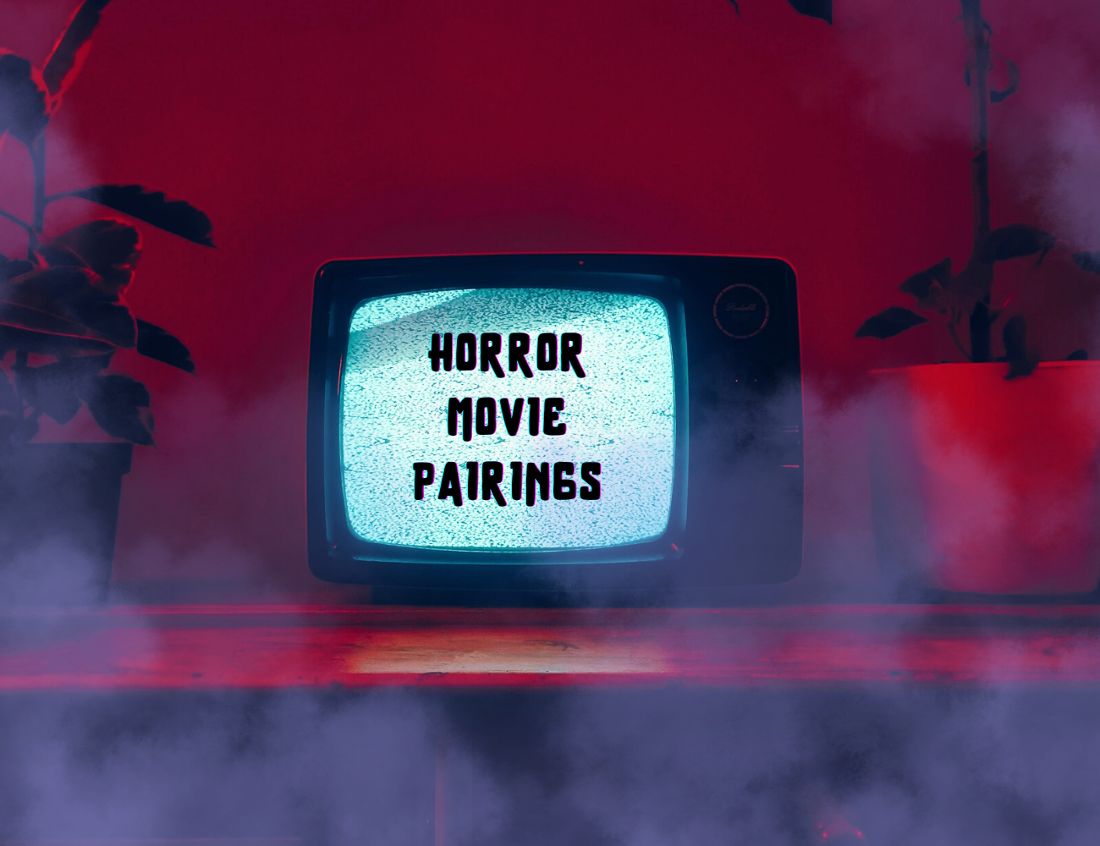 'Tis the season to feel frightened!
One of our team's favorite movie genres is Horror, so October is practically like Christmas here at Sip Better. Below, we've paired wine to a few of our favorite horror films (though it was agony trying to choose just six!). Now grab your wine, some salty snacks, and settle in with someone who will squeeze your hand during the creepy parts.
Happy Halloween!
What's the '90s greatest contribution to pop culture? The Scream franchise, of course! Besides the teenage eye candy and delicious jump scares, we love that each film in the series gives dedicated space to POPCORN. In fact, if Drew Barrymore's character hadn't gotten that fateful phone call in the very first scene of the very first movie, she'd be kicking back with a perpetual bowl of buttery Jiffy Pop. Our favorite thing to drink with popcorn and a scary movie is this luscious Chardonnay laced with peach, pear, and notes of vanilla and crème brûlée.
While this flick wasn't a commercial success when it was released in 2009, it has gathered a cult following due in part to Megan Fox and her sultry portrayal of Jennifer Check, a high school student turned demon-possessed man-eater. Fun fact: this film takes place in Sip Better's home state: Minnesota! The
Vellino Saperavi
 is a velvety red, deep in color, rich in savor and blackberry fruit. This lusty bottle is as irresistible as Jennifer herself. It will swallow you up with its alluring wild berry profile! The wine pairs perfectly with a candlelit dinner—think smoked meats, mushrooms, and pepper. 
Stephen King's classic tale depicting Jack Torrance's descent into madness at the Overlook Hotel is the perfect excuse to sip some bubbly. While the spirits of the Overlook prey on the Torrance family, the hotel's grand setting up in the Rocky Mountains can't help but inspire the glitz and glamour of days gone by. Not to mention Jack's run-in with a dapper ghostly bartender in the hotel bar—all signs point to sparkling wine! This super affordable sparkler from France is like Champagne without the hefty price tag. Green apple and notes of kiwi give way to a deliciously creamy, yeasty center. 

Jason Vorhees is one of the horror genre's great villains. Stalking the shores of Camp Crystal Lake, seemingly impossible to kill, he strikes fear into the hearts of campers across generations. The Field Recordings 'Fiction' Red Blend pairs well with a Friday the 13th franchise binge. This wine pours the color of darkest night. The aromas of blueberry pie, luxurious suede couches, ham paninis, unlit menthol cigarettes practically transport you to Camp Crystal Lake circa 1979. Grab this gulpable bottle for a fall night in!

Michael Meyers first graced the silver screen in 1978 and has been terrifying babysitters ever since. If there was one bottle the babysitters would steal out of the cellar, it's this crushable, fresh sparkling rosé. Crisp and fruit-driven yet creamy on the palate, this is a delicious sparkler to have on hand for easy entertaining. This bottle is perfectly paired with a scary movie after the kids go to sleep—just don't turn out the lights! 
You know it, you love (hate?) it! The original The Exorcist film is a creepy cocktail of demons, possessed little girls and religious iconography, served to you in a nice big 1970s goblet. Will you close your eyes during the famous head-spinning scene? Regardless, make sure to give this wild trip of Zinfandel, Cabernet, Tempranillo + Syrah a spin while you watch. Its juicy, smoky, textured palate will keep you on your toes the whole night.