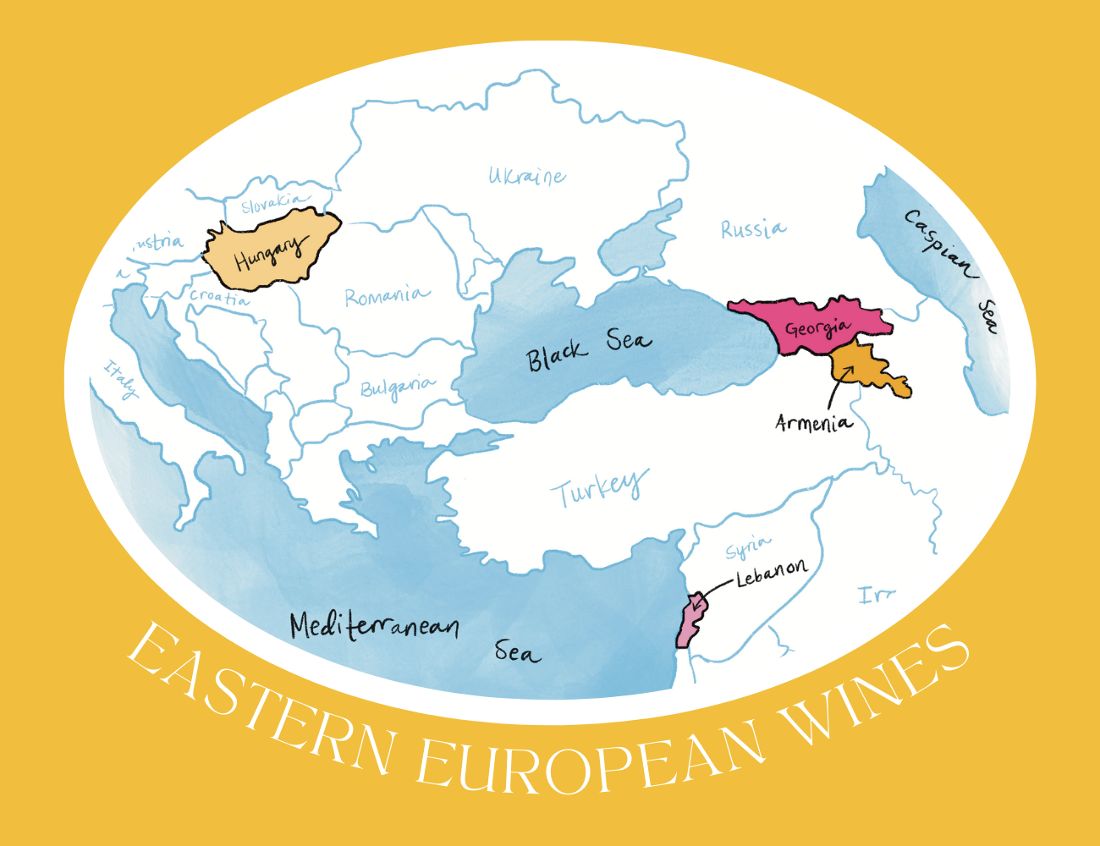 Eastern European wines are more widely enjoyed than ever these days! But with this infusion of amazing indigenous grape varietals comes a certain amount of confusion. What the heck does furmint taste like? If I'm a Pinot Noir lover, which Armenian grape will I like best? Great questions! Consider this post your entry point into lesser-known wines from Eastern Europe.
Enjoy the journey!
HUNGARY
Winemaking has been a part of Hungary's history dating back to the Romans. The country boasts 22 different wine regions and is most famous for the Tokaj region's aszú—a sweet and golden-hued wine made from the furmint grape—which was hugely popular among European royalty for centuries. Seasons of war, plague, and Communist rule have sent Hungary's wine industry on a rollercoaster of changes, but today, many Hungarian winemakers are once again turning toward small, low-intervention, family-run operations that value quality over quantity.
Hungarian wines can seem a bit tricky to navigate because wine regions are not always associated with specific grape varietals. Below, you'll find some very basic info to get you started!
CLIMATE + LOCATION
Most of Hungary is considered a cool climate growing region with volcanic soils.
GRAPES
Furmint is the most well known native grape and the one you're most likely to find in an American wine shop. While it is most famous for its use in sweet aszús from Tokaj and Somló, Furmint's natural flavor profile is minerally, bracing, and wonderfully acid-forward. 
TRY THIS WINE
Evolúció (dry) 'Furmint' | A crisp and dry expression of this Hungarian grape
ARMENIA
Like Hungary, Armenia's winemaking history is rich and ancient. But the cultivation of vineyards and the craft of winemaking ground to a near halt when the Soviet Red Army invaded in the 20th century. When Armenia finally regained its sovereignty in 1991, the country found itself with a blank slate of wine making opportunity! Today, young Armenians are experimenting and innovating in the vineyards, coaxing the country's native grape varietals back to vibrancy.
CLIMATE + LOCATION
Armenia is a land locked country known for its high elevations and volcanic soils.
THE GRAPES
- Voskehat: The country's main white grape boasts notes of stone fruit, herbs and florals.
- Areni Noir: A red grape comparable to Pinot Noir, with notes of cherry, strawberry, and pepper.
TRY THIS WINE
Keush 'Origins' | A fresh, crisp, and creamy sparkling white blend of Voskehat and Khatouni Kharji
LEBANON
While viticulture has been a part of the culture for centuries, modern Lebanese winemaking was truly only established around 150 years ago. In the mid-2000s, Lebanese winemakers began exploring what it means to make a "Lebanese" wine in a more earnest way, producing more terroir-focused wines that don't adhere as strictly to European influence.
CLIMATE + LOCATION
Lebanon sports a variety of environments, from sea coasts to mountain terrain. Most Lebanese wines are produced in the Bekaa Valley, a narrow, high-altitude plateau that provides a fertile pocket of agriculture amidst the mountains.
THE GRAPES
Lebanon's primary grape varietals come straight from Europe:
- Cinsault, Carignan, and Cabernet Saunignon: A few of the most popular red grapes
- Merwah, Obaideh, Chardonnay and Sauvignon Blanc: The most common white grapes
TRY THESE WINES
Chateau Musar White | A dry, complex white with honey and dry spices on the nose
Chateau Musar 'Jeune Rouge' | Dark, velvety, full of jammy red fruit and spice
GEORGIA
Wine is woven into the historical fabric of Georgian culture. It plays a vital role in most celebrations, ceremonies, and cultural moments, and its beginnings date back 7,000 years (what!). The country claims over 500 native grape varietals and dabbles in just about every method of winemaking out there. 
CLIMATE + LOCATION
Most white grapes are grown at high, cool altitudes near the Caucasus Mountains, which results in fresh, low-alcohol wines. Red grapes are typically grown at warmer, lower altitudes. The most popular growing region is Kakheti.
THE GRAPES
- Saperavi: Georgia's big red grape! Saperavi is fresh and fragrant while presenting dark and smooth on the palate.
- Rkatsiteli, Mtsvane, and Tsolikouri: The main white grapes in Georgia. WHile Rkatsiteli is primarily used for blending, Mtsvane and Tsolikouri conjure crisp, easy drinking wines.
TRY THIS WINE
Vellino Saperavi | Velvety, fragrant, floral and dark all at once

*Explore more wines from far flung places here!