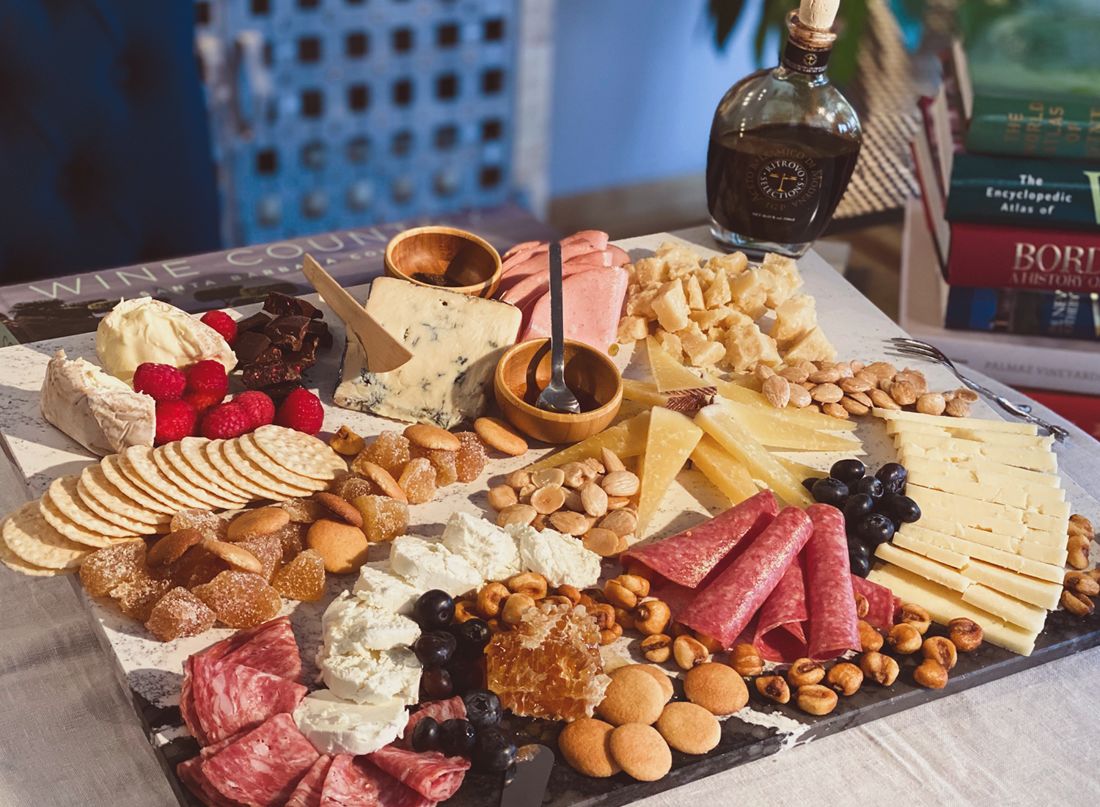 Photo: Leslee Miller
One joy in the time of Corona Virus? Virtual wine classes!
Sip Better's sommelier, Leslee Miller, has been putting her wine education chops to work from the comfort of her own home. Through her consulting business, Amusée, Leslee has begun hosting live themed wine classes via Zoom, and the latest one turned into one big wine and cheese pairing party! Wine lovers from around the country tuned in on Saturday April 18th to discuss how to create a killer cheese and meat spread (see that beauty up above?), which wines to pair with which snacks, and more. I was there too! And here are three of my takeaways:
VARIETY IS KEY
Make sure your cheese(and meat) board reflects the spice of life: variety! Choose at least one cow's milk cheese (like Gruyère), one goat's milk (such as fresh chèvre), and one sheep's milk cheese (like Manchego). Not only do these different milks offer many pairing combinations and flavor profiles to explore, they also ensure that most of your dining mates will find something to love on the plate. Pro Tip: Aged cheeses (like cheddar and gouda) generally suit lactose-intolerant tummies well.
BE PLAYFUL
Sure, there are those classic cheese board accompaniments: Olives, fresh fruit, baguette. But a cheeseboard is like a painting! Tap into your creative side and choose some unexpected snacks to feature, such as Nilla Wafers (can you spot them on Leslee's board up above?), honeycomb, smoked salts, chocolate wedges and funky jams and jellies. When you're plating the whole thing, think about which colors and textures would look beautiful next to one another. What kind of backdrop will you use? Perhaps a shimmery marble board? Maybe a swath of crinkly dino kale leaves? This is YOUR baby. Experiment!
USE YOUR SECRET WEAPON:
A dry Riesling or a Gewürztraminer will pair well with juuuuust about anything. I'm not kidding! If you find yourself stuck on which wines to pop with your cheese board, just be sure to have at least one of these on hand. These two grapes bring loads of freshness and acidity to the table, which are great companions rich cheeses and savory snacks.
Bottom line: Make your wine and cheese party about trying new things. Craft different little bites out of the many ingredients at your disposal. Take a bite of one thing and a sip of something else and see how the flavors interact in your mouth. That's the point! Find what tastes good to you.
--Emily Rentsch