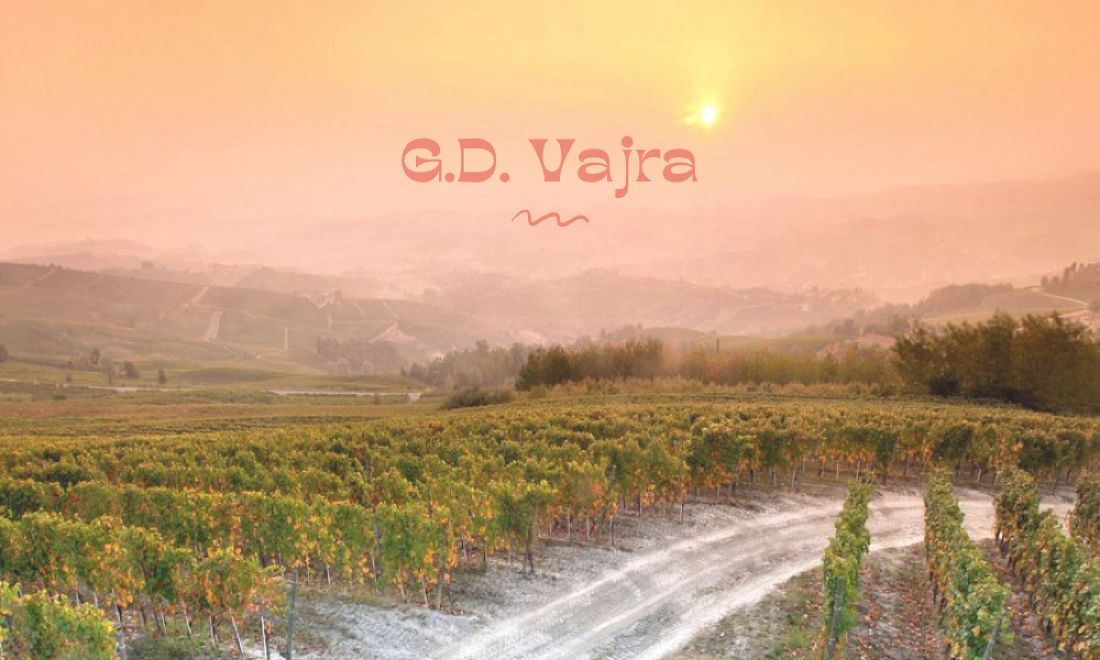 Photo: via The Real Review
G.D. Vajra is a family-run wine grower nestled in Vergne, the highest village in the Barolo region of Piedmont, Italy. The Vajra family tends 40 hectares of high-elevation vineyards, where breezy conditions produce complex and beautifully aromatic wines that are still distinctly Piedmontese in nature.
Aldo Vajra knew winemaking was for him from a very young age. In 1968, Aldo took over his grandfather's estate, putting his dreams of grapes and vines into action and bottling his first vintage in 1978. Since then, he has secured his place in the ranks of top tier Barolo winemakers, earned the region's first organic certification, and raised a humble and wine-loving family with his wife Milena.
The Vajra family believes in simply guiding (rather than forcing) the grapes into their full and truest expression in the wine bottle, and their respect for the land and sustainable farming practices are crucial features of this philosphy. Aldo personally derives great joy from dreaming up a vineyard: deciding what to plant and how, analyzing the soil, imagining the wine that will come from it and then discovering the wine's true character as it manifests before his eyes.
All three of Aldo's children clearly admire their father's creativity, intelligence, and studious attention to winemaking (check out the video interviews on G.D. Vajra's website for more!). As one of Aldo's sons, Giuseppe, remarked, the "recipe" for G.D. Vajra wine is not a recipe at all. It is the "coordinates of [Aldo's] taste, the coordinates of his sensibility." 
Even greater than the winery Aldo and Milena have built is the family they have cultivated within its vineyards. These days, their children Giuseppe, Francesca and Isidoro manage the everyday operations of the winery. For Aldo and Milena, sharing the work of winemaking with their three children is the ultimate dream, the future that they look toward. And while their children don't always agree with them, Aldo and Milena accept and encourage these differences because they value critique and progress as well as tradition. No doubt this generational dance is one of the reasons why G.D. Vajra wines are both traditionally elegant and delightfully fresh.
A TASTE OF G.D. VAJRA
• G.D. Vajra 'Rosso' | A fresh yet earthy Nebbiolo, Barbera, Dolcetto blend, easy to sip!
• G.D. Vajra 'Albe' Barolo | 100% Nebbiolo culled from several high elevation vineyards
• G.D. Vajra (Luigi Baudana) 'Dragon' Blanc | A floral, medium plus weighted Chardonnay/dry Riesling blend
• G.D. Vajra 'Claré J.C.' Nebbiolo |A super spanky, sprightly, younger Nebbiolo backed by fresh red cherry + strawberry fruit