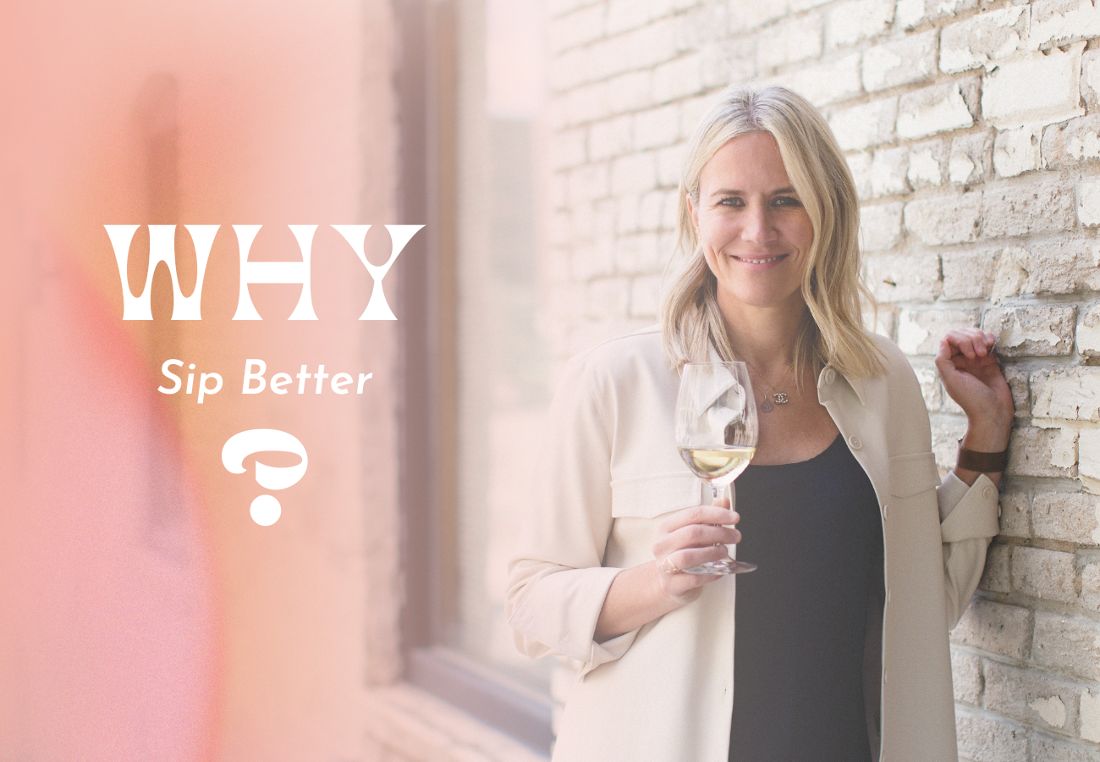 Empowering Wine Lovers' Health Choices and Tasting Adventures
For years, sommelier Leslee Miller observed that clients and friends were seeking healthier wine options, but they were perplexed by wine's most recent buzz words (vegan, natural, green, clean + organic); frustrated at the lack of retailers that offer healthy, affordable and delicious wines; and confused about or disappointed by bulk-labeled wine clubs.  
They genuinely wanted to drink well, learn more about their palates and wine, and support the farmers behind the actual labels. But they struggled to find a brand that was a champion for these interests.
And so, Leslee created Sip Better: Better for All Wine. Better for you, better for the planet, better for wine growing communities.  
Sip Better: Feel Good, Do Good and Drink Smart
Sip Better is a national wine club dedicated to Better-for-You wine. Sip Better supports only family owned, small, international wine growers, who are committed to farming via sustainable, organic and biodynamic practices. Leslee hand vets every product to guarantee that each wine is void of additional sugars, added flavors, extracts, colorings or additives.  
Sip Better club members get better-for-you wine delivered to their doorstep, with curated selections from their personal sommelier (that's Leslee!), paired with a robust digital wine platform. Every bottle is hand-selected for individual members, using Sip Better's proprietary rating system, combined with Leslee's knowledge of a wine's scientific breakdown (acid, fruit, tannin, body, etc.).
Sip Better also encourages club members to tour the wine world! Each bottle is an opportunity to expand your palate and knowledge of wine, allowing you to journey beyond your 'usual suspects' while enjoying great wine. Elevate your tasting journey through educational videos, pairing suggestions, serving suggestions (temperature + cellar time) and more, using the Sip Better online wine platform.
Leslee also helps members avoid common wine traps that befall "big box" wine customers. The best taste and right price are always guaranteed. 
Today, Sip Better is a robust national community of health-conscious wine-lovers. Together, they share one vision and want to maintain this vision within their community. As the founder, Leslee wants the community to remain pure, active and supported - not to be directed by venture capitalists.
Sip Better has chosen to fund through its community instead of venture capital, so that Sip Better never has to put profits before people. Through their successful IndieGoGo campaign in 2022, Sip Better has been able to expand its robust online platform and open a flagship brick-and-mortar wine shop in downtown Minneapolis!
Flagship Store Offers New, Adventurous Wine Experience
At Sip Better's new location in the North Loop, wine enthusiasts stop by to learn about better-for-you wine, explore gifts and memberships, join tastings, and—of course—purchase wine currently offered in the wine club, as well as in-store exclusives.
Discover outstanding wines at affordable price points. Purchase single bottles or a club membership, or mix-and-match a case of better-for-you wine tailored to your palate or lifestyle. Or, give your wine-loving friends the gift of Sip Better for a new, adventurous experience.
Decades of Wine Experience & Commitment to Stewardship
Leslee owns three companies dedicated to the wine industry: Amusée, Sip Better, and her newest, Cépage. With over 25 years of hospitality experience and 20+ years as a certified sommelier, Leslee is immersed in the wine scene internationally, as she teaches, writes, and serves as spokesperson for wine education on a day-to-day basis.  
Throughout Leslee's career, she has worked to exclusively support family-owned international wineries that define 'stewardship' and have a promised commitment to their wine growing regions, families and communities.  
 Today, she brings these growers and their hand-crafted wines to you, via Sip Better!
Leslee's Other Ventures
• Cépage | A luxury gift box company geared toward wine lovers | Visit Cépage
• Amusée | Leslee's wine consulting firm |  Visit Amusée