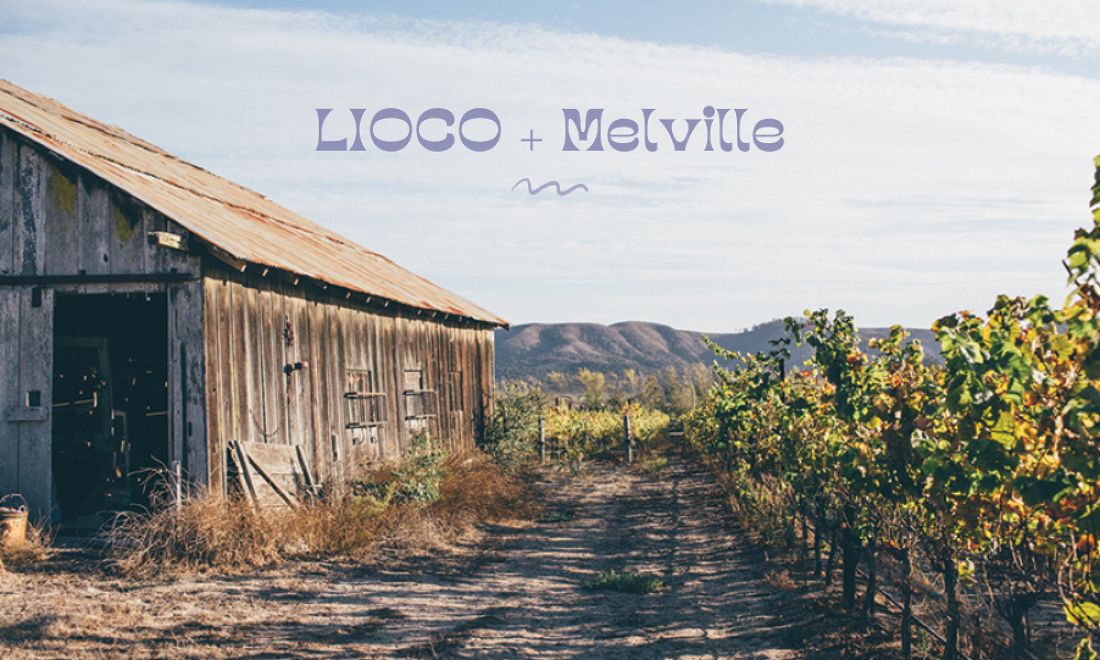 Photo: via Melville
*This post is part of our Grower of the Month series, in which we spotlight a winery (or two) that we love!*
This month's Grower of the Month is a double feature! Enjoy this peek into two California wineries that embody the spirit of minimalist winemaking.
LIOCO
California's LIOCO winery is run by husband-and-wife duo Matt and Sara Licklider (pictured above), but it began as a dream between two wine professionals. In the early 2000s, Matt and wine director Kevin O'Connor set out to craft wines that favored nuance and sense of place over the more forceful and exaggerated winemaking techniques dominating the market at the time.
Their small operation is now run by Matt, his wife, Sara, and a teeny tiny team of winemakers and tasting room staff. Together, they purchase fruit grown primarily from Santa Cruz, Sonoma, and Mendocino counties and then simply "get out of the way." That's it! The LIOCO mission is to let exceptional fruit take the lead, with just a little nudge here and there from the humans that guide it. The real magic is in the ingredients! The Lickliders form relationships with only the best, sustainable, and most responsible vineyards, and work as closely as possible with their farmers to ensure that whatever winds up in your glass is exciting and always delicious.
*Learn more about the growers LIOCO works with!
A TASTE OF LIOCO
• LIOCO 'Indica' Red | An atypical grape for LICOO: 100% Carignan
• LIOCO 'Sonoma County' Chardonnay | A complex Chardonnay with balanced acidity
• LIOCO 'Lolonis Vineyard' Valdiguié | A red full of blue fruit aromas, mulberry jam and fig 
• LIOCO 'Las Arenas' Chardonnay | Notes of brioche and apple are blanced by slate and wet stone
MELVILLE
Established in 1989 by Ron Melville, Melville winery grows cold-climate Pinot Noir, Chardonnay and Syrah in their Sta. Rita Hills estate vineyards, situated in Santa Barbara wine country. Today, Ron and his son, Chad (pictured above), are the driving force behind Melville's exceptional wines. As an "estate" winery, the Melvilles have their hands in each step of the winemaking process, meaning they only make wine from grapes that they farm and tend to themselves. This intimacy with the winemaking life cylce allows them to ensure that both the land and the wine is treated well.
The Melvilles practice high density farming, which produces lower yields of fruit with super high concentration. Each grape is hand-picked and treated gently. And like LIOCO, the team at Melville is committed to letting their well-tended fruit speak for itself by interfering as little as possible in the fermentation process. The best wines begin in the vineyard! 
A TASTE OF MELVILLE
• Melville Syrah | The perfect balance of silky tannins and juiciness
• Melville Chardonnay | Rich mouthfeel is anchored by a bracing, salty acidity
• Melville Pinot Noir | Notes of raspberry and black cherry swirl with earthy herbs and silky tannins