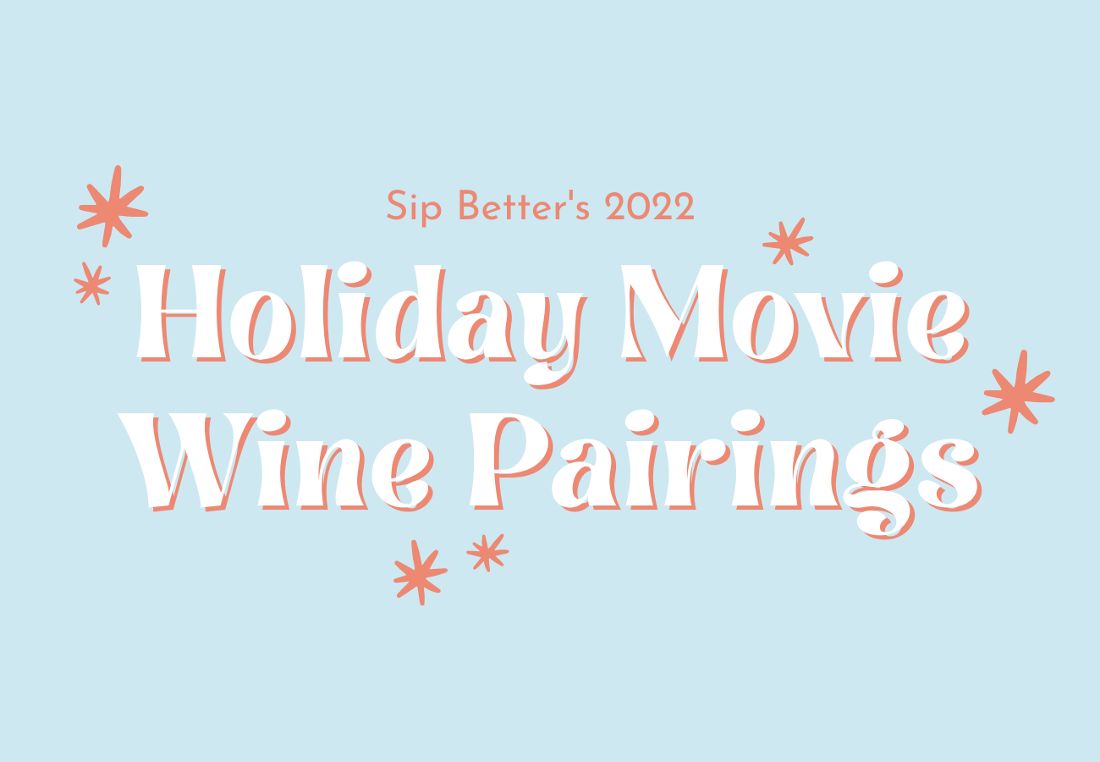 Photo: Sip Better
You can't stream anything in December without being smacked over the head with a Christmas movie recommendation! And as with wine, there is truly a holiday movie out there for just about anyone, no matter how festive or Grinchy you feel. 
The Sip Better team decided to tune in to a few of our favorite holiday movies and do some wintery wine pairings for each film. What do you think? What would YOU drink while kicking back to Home Alone?
Please enjoy and Happy Holidays!
THE MOVIE: The Holiday 
DRINK THIS:
- The Pinot Project Pinot Noir for Cameron—A smooth, dark-fruited Pinot is the perfect no-fuss wine for Cameron Diaz's high-functioning Amanda. This wine is bold, classy, and couldn't possibly shed a tear for the likes of you. ;)
- Domaine de la Racauderie Sparkling for Kate—Sparkling Chenin Blanc is just the thing for Kate Winslet's character, Iris. Its toasty, round notes of baked pear and French toast are as endearing as the gal herself, while its gorgeous effervesence makes this unexpectedly fancy wine shine.
THE MOVIE: Elf
DRINK THIS: Henry Varnay Rosé Sec—It's frothy, it's pink, it's fresh and oh so bright—it's basically Buddy the Elf, right? Pop this one with a plate of spaghetti + maple syrup (if you dare!).
THE MOVIE: Home Alone
DRINK THIS: Dr Konstantin Frank Semi Dry Riesling—Just like lil Kevin McCallister, this wine appears delicate at first and then rolls in with big, sweet and juicy tropical notes, tempered by a little lemon citrus for spunk. Great for a wild ride and perfect with just about any spicy, savory take-out you can imagine. 
THE MOVIE: National Lampoon's Christmas Vacation
DRINK THIS: Agriverde 'Piane di Maggio' Montepulciano d'Abruzzo—Juicy dark berry and plum fruit make this deep red a highly gulpable wine, perfect for guzzling when you're dealing with all those crazy in-laws or extended family. Bonus: It clocks in under $11! 
THE MOVIE: White Christmas
DRINK THIS: Left Coast Cellars White Pinot Noir—This special white Pinot Noir not only evokes the name of this Christmas movie, but its zesty fruit-forward flavor profile will have you almost thinking summer vibes rather than New England's Winter Playground (if you know you know).
THE MOVIE: Falling for Christmas
DRINK THIS: Meinklang Frizzante Rosé—A slightly fizzy pink that would certainly please Lindsay Lohan's spoiled heiress, Sierra, in this new classic Christmas movie! And the fact that the wine is produced by some very of-the-earth farmers echos Sierra's unexpected romance with Jake, her sweet and humble rescuer.