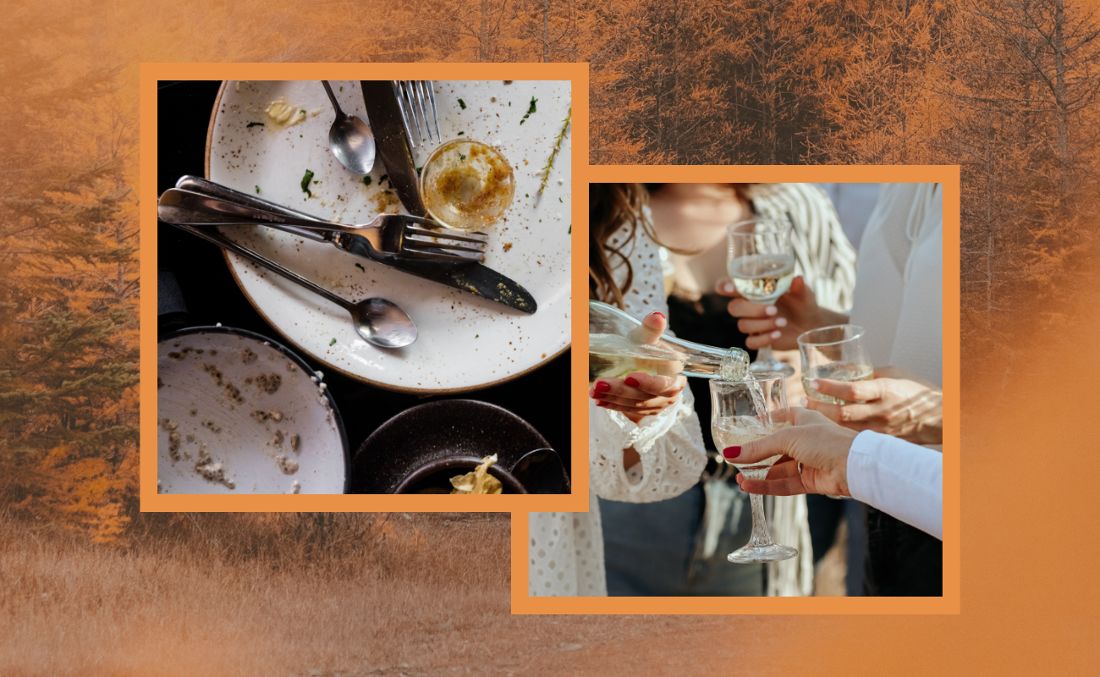 Photo: Taisiia Shestopol via Unsplash
On Thanksgiving Day, the only thing more stressful than getting a hot and scrumptious feast on the table is having enough delicious things for everyone to drink. 
Don't worry! You'll soon be the host(ess) with the mostest with this list of wines that truly run the gamut. From structured red wines to frothy pinks, our Thanksgiving Day wine pairings are meant for everyone and anyone. 
Explore the pairings below and be sure to head over to our Thanksgiving SHOP section if you can't find what you're looking for here. Clink, Clink!
STARTERS
from cheese boards to smoked chicken wings to crunchy crudité

• Dopff & Irion Crémant d'Alsace Brut Rosé | Alsace, France
Pair with cheese boards, shrimp cocktail, raw veggies and fruit desserts
• Landhaus Mayer Riesling | Niederösterreich, Austria
Pair with cheese boards, olives, fruit, roast turkey, fresh salads
SIDES
whether its a warm brussels sprout salad or that jiggly can o' cranberry


• J. Bouchon 'País Viejo' | Maule Valley, Chile
Pair with all the roasted root veggies or even a cheese board 
• Winehaven Winery Cranberry wine | Minnesota, USA
Pair with cranberry sauce, stuffing, fruit-based desserts and everything else Thanksgiving-y
• Brown Estate 'House of Brown' Chardonnay | Napa, California
Pair with creamed spinach or corn, dinner rolls, stuffing
MAINS
turkey! or whatever other savory main dish you plan to serve


• Domaine La Manarine 'Côtes du Rhône Rouge' | Cotes du Rhone, France
Pair with braised meats of all sorts, sausages and roasted veggies
• BloodRoot Pinot Noir | Sonoma County, California
Pair with mushroom gravy and non-traditional savory mains, like roasted duck or salmon
• Domaine Les Roches Bleues 'La Baraquée' Gamay | Côte de Brouilly, Beaujolais, France
Pair with smoked meats, mushrooms, pork, anything hearty
DESSERT
pumpkin pie, French silk, fruit, or simply a pile of whipped cream
• Patrick Bottex Bugey-Cerdon 'La Cueille' | Cerdon, Bugey, France
Pair with chocolate, cream, and fruit desserts of all sorts
• Weinhaus Kreuznacher Kabinett Riesling - Single Vynd 'Goldtröpfchen' Piesporter | Goldtröpfchen, Piesport, Mosel, Germany
Pair with creamy desserts, peach and pumpkin pies, or serve all by itself!