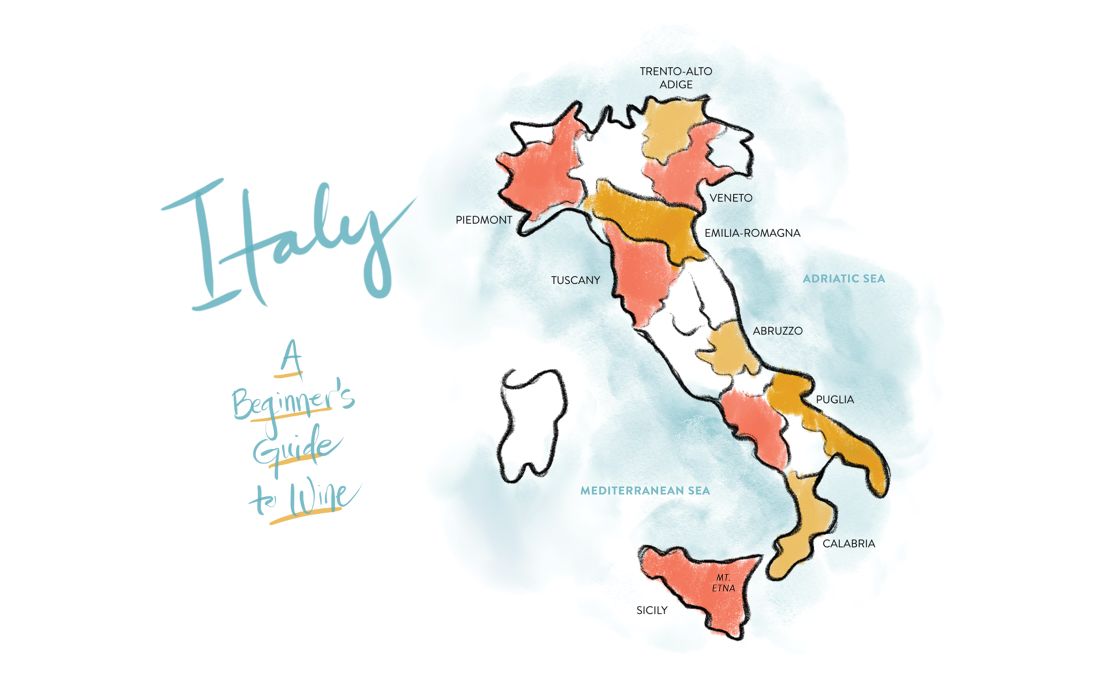 Photo: Emily Rentsch
Italian wine is both beloved and kind of daunting. Italian wine makers are proud of the many indigenous grapes that thrive in their country, but with over 580 grapes in use across the land, there's a lot to sift through (and discover!) in this ancient gastronomical paradise. 
We're here to make things a little simpler! Below, we'll run through some of the main wine-producing regions in Italy—from North to South—and highlight the most prominent grapes from each region. You'll get to know the grapes' basic flavor profiles and gain a bit more insight on how to choose a bottle of Italian juice the next time you're strolling the wine shop aisles. Let's dig in!
HOW TO READ ITALIAN WINE LABELS

First—how the heck do you decipher an Italian wine label?!
One of the big things to remember is that Italian wines are filed into one of four different classifications. These classifications (or appellations) indicate how well-controlled the production and quality of each wine is:
• DOGC (Denominazione di Origine Controllata e Garantita) — Wines labeled DOGC are the most highly regulated and best quality wines on the market in Italy.
• DOC (Denominazione di Origine Controllata) — Wines of high standard that go through many quality checks.
• IGT (Indicazione Geografica Tipica) — Wines from designated regions that are less tightly regulated than DOC and DOGC wines.
• VDT (Vino Da Tavola) — Everyday table wine that doesn't follow any particular regulations.
Choose the classification that best suits your needs and budget. In general, the more tightly-regulated the wine, the more likely it is to taste good. But that doesn't mean that the only great Italian wines boast a DOGC or DOC! Finding your favorites can take a little bit of trial and error. Below, we'll list some of our favorite bottles to get you started.
After you've located a wine's classification on a label, look for names of grapes or regions that are familiar to you. Not every label includes the name of the region AND the grapes used to produce it, so the more vocab you've got in your back pocket, the better equipped you'll be to decide what's actually inside a bottle of wine.
Below, we'll discuss major regions and grapes that will help you pinpoint what you want to drink.
PIEDMONT


CLIMATE + LOCATION
Piedmont lies in the northwest part of Italy's boot. It is characterized by gorgeous Mediterranean balminess and cooler temperatures in the mountains.
GRAPES
- Nebbiolo: This is Italy's superstar! And a finnicky superstar it is. Nebbiolo is notoriously difficult to grow and is full of gnarly tannins. However, if given time to age, Nebbiolo blossoms into a much softer, gentler beast, with notes of rose, cherry, and herbs. Nebbiolo is used to make two of Italy's most famous wines, Barolo DOCG and Barbaresco DOCG (two wine regions near the city of Alba). 
- Barbera: A much more accessible red than Nebbiolo from Barolo and Barbaresco, but equally delicious when done right. Barbera is high-brow beauty with cherry and spice and great acidity.
- Dolcetto: A less well-known red with full, black fruited with licorice like aromas and of a medium palate. 
TRY THESE WINES
Vallana 'Colline Novaresi' Spanna | From the Langhe Hills; Spanna is the local name for Nebbiolo
Matteo Correggia 'Roero' Nebbiolo | Nebbiolo from the subregion of Roero
Luigi Giordano Barbera d'Alba | Spiced aromas with lots of blue and red fruit
TRENTINO-ALTO ADIGE

CLIMATE + LOCATION
This sunny, elevated region of northern Italy gets loads of influence from Austro-Hungarian culture.
GRAPES
- Pinot Grigio, Pinot Bianco, and some German grapes like Kerner: These are bright, mouthwatering whites with fruit notes that range from green apple to peach.
- Schiava and Lagrein: Light, food-friendly reds with red berry fruit flavors.
- Pinot Nero (the local name for Pinot Noir): Light to medium-bodied red with notes of fresh strawberry and cherry.
TRY THESE WINES
Peter Zemmer 'Rollhütt' Pinot Noir | Pinot Nero with a zippy, refreshing quality
Elena Walch Schiava | A fresh and chillable red with a savory backbone
Weingut Niklas Lagrein | Medium-bodied and savory, perfect with pizza
Peter Zemmer Pinot Grigio | Rich and acidic, with a lovely minerality
Tiefenbrunner Weissburgunder Pinot Bianco | Fresh, floral, and tropical
Abbazia di Novacella Kerner | A round and floral beauty
VENETO

CLIMATE + LOCATION
This northeastern wine region is cuddled up next to the Adriatic Sea, which produces lots of microclimates throughout the region.
GRAPES
- Pinot Grigio: A zippy, refreshing white grape with bright hits of citrus and green apple. This is one of Italy's most popular whites.
- Corvina, Rondinella + Molinara: Three red grapes used to produce Valpolicella DOC and Amarone della Valpolicella DOCG. Valpolicella is the ULTIMATE pizza wine—light, slightly fruity, and perfect with melty cheese.
- Glera: This is the main grape used in Prosecco, and Veneto is famous for its production of this fizzy wine! Most Proseccos are beloved for their lightness and refreshing notes of peach, pear, and apricot.
TRY THESE WINES
San Cassiano 'Corte Guala' Valpolicella | Bright, red fruit with an herbaceous streak. A must for pizza!
Marsuret 'San Boldo' Prosecco di Valdobbiadene Superiore Brut | A delicate sparkler with foral and apple notes
EMILIA-ROMAGNA

CLIMATE + LOCATION
This extremely fertile region is situated right between the Alps and teh Apennines and is known as the gastronomical capital of Italy.
GRAPES
- Lambrusco: This is both a red grape AND a region within Emilia-Romagna. Most Lambrusco wines are slightly sparkling (look for "frizzante" on the label), dry, and great with food.
TRY THESE WINES
Cantina di Carpi e Sorbara 'Piazza Grande' Lambrusco | Fresh and delicately acidic
Cleto Chiarli Lambrusco | The oldest Lambrusco producer in the world! 
TUSCANY

CLIMATE + LOCATION
Located just below Emilia-Romagna along the west coast of Italy, Tuscany is known for its rolling hills and agricultural prowess.
GRAPES
- Sangiovese: You'll find this grape EVERYWHERE in Italy—it's the country's most widely-planted grape and is a crucial component in several regional blends, such as Chianti, Chianti Classico, Vino Nobile di Montalcino, and Brunello di Montalcino. Its flavor profile is fresh strawberry with a spicy edge.
- Super Tuscans: These are red blends (not individual grapes) made up of indigenous (like Sangiovese) and non-indigenous grapes (such as Cabernet Sauvignon, Cabernet Franc, Merlot, Syrah).
TRY THESE WINES
Avignonesi 'Cantaloro' Rosso | A super tuscan full of fruit and a smooth, dry finish
Isole e Olena Chianti Classico | Sangiovese blend with moody, dark fruit flavors
Fattoria Selvapiana Chianti Rufina | Sangiovese blend with lots of black fruit and a little tobacco
Castello di Volpaia Chianti Classico | Sangiovese blend that is fresh and invigorating
Enrico Santini 'Camp Alla Casa' Bianco | A white blend with fresh pear, apple, and pine that tastes wonderful with seafood.
Mocali 'I Piaggioni' Rosso Toscano | Rustic and punchy, this savory Sangiovese will knock you over!
ABRUZZO

CLIMATE + LOCATION
This mountainous growing region lies on the east coast of central Italy.
GRAPES
- Montepulciano: This medium-bodied red grape is infinitely loveable and easy to pair to all sorts of foods due to its high acidity.
TRY THIS WINE
Agriverde 'Piane di Maggio' Montepulciano d'Abruzzo | A juicy, food-friendly red with lots of blueberry and plum
PUGLIA

CLIMATE + LOCATION
A sunny, balmy, Mediterranean section of the country along the lower east coast.
GRAPES
- Primitivo: Known as Zinfandel in the United States, this grape is known for its moody flavor profile of dark chocolate, blackberry, and licorice.
CALABRIA

CLIMATE + LOCATION
Calabria makes up the toe of Italy's boot-shape and is surrounded on three sides by the sea and stunning rocky coasts.
GRAPES
- Gaglioppo: This red grape is indigenous to Calabria and is used in almost all DOC wines of the region. Compared to reds produced in its surrounding regions, Gaglioppo is quite a bit lighter in body. It is known for its notes of berry, cherry, and spice.  We love it with a teeny tiny baby chill!
- Greco Bianco: Fresh, aromatic, delightfully thirst-quenching white. Great with seafood!
TRY THESE WINES
Ippolito 1845 Cirò Rosso 'Liber Pato' Gaglioppo | A structured, mouth watering red that pairs well to a charcuterie board
Ippolito 1845 'Mare Chiaro' Cirò Bianco | A Greco Bianco that smacks of bone dry minerality and citrus
SICILY

CLIMATE + LOCATION
Just off the west coast of Italy, this Mediterranean island is dry, sunny, and toasty warm. In the upper eastern corner of the island you'll find the active volcano, Mt. Etna.
GRAPES
- Nero d'Avola: Fruity, medium-bodied red
- Grillo: Known for super juicy whites layered with notes of peach and sometimes grapefruit and herbs.
- Nerello Mascalese: This special red grape thrives primarilly in the volcanic soil of Mt. Etna. It produces elegant wines with a hearty streak of minerality and subtle berry, spice, and herbaceous notes.
TRY THIS WINE
Vini Franchetti 'Passopisciaro' Rosso Sicilia | Nerello Mascalese grown near Mt. Etna, this medium-bodied red boasts soft tannins and spice. Great for Cabernet drinkers.

Are you out of breath? We just threw a LOT of words at you. But that's because Italy is truly overflowing with wine possibilities, and the grapes and regions mentioned here are just a sample. Use this guide as a starting point on your (hopefully life-long) quest to enjoy Italian wine. And remember that it's not a race. It's a journey!

—Emily Rentsch