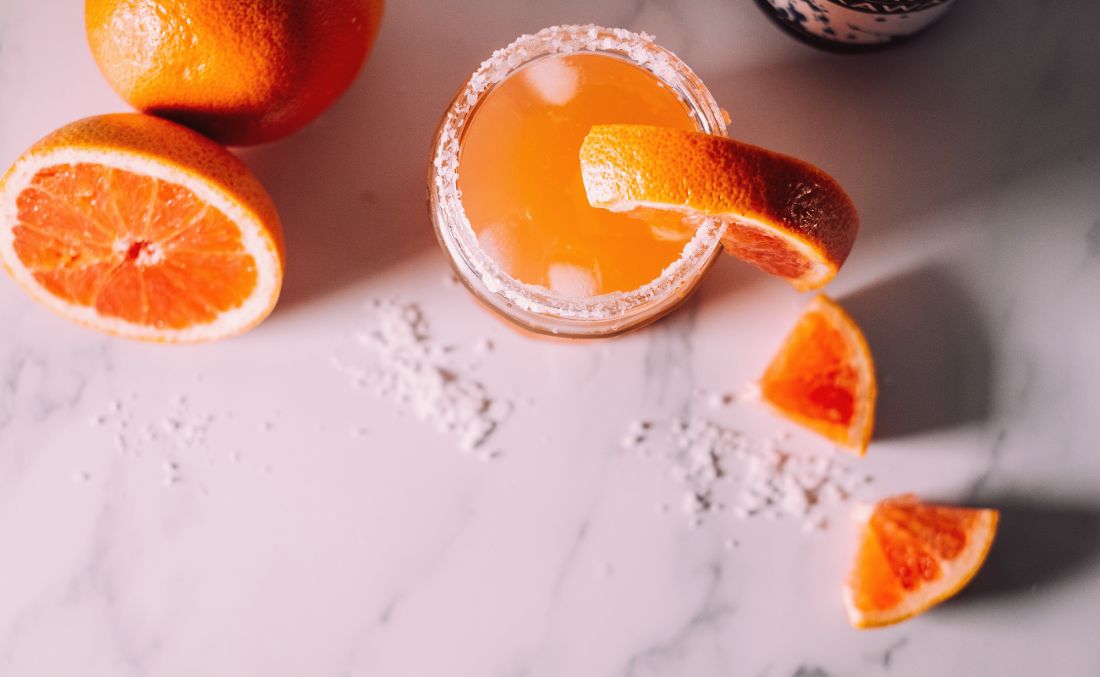 Photo: Rinck Content Studio via Unsplash
Happy New Year! It's always nice to have an excuse to hit REFRESH, right?
For some of us, that refresh might include a little break—or just a step back—from alcohol. Helloooo, Dry(ish) January! A moment to cleanse the system and make life a little simpler. If that's your plan, perhaps you're in the market for some non- or low-alcohol beverages options? Boy, have I got a drink for you!
It's a fruit shrub! A homemade one, in fact, and it's incredibly easy to make.
Fruit shrubs are vinegar-based fermented beverages that make for zippy mixers that almost mimic the funk and complexity of wine or booze. Add an ounce or two of this shrub to seltzer and garnish with fresh mint for a refreshing mocktail. You could also cut a glass of dry sparkling wine with shrub and a bit of seltzer and pretend it's New Years Eve all over again. Either way, this little concoction (recipe below) should get your creative juices flowing in a healthy, life-affirming way.

GRAPEFRUIT SHRUB
Ingredients:
• 2 grapefruits
• 1 lemon
• 1 1/2 C sugar
• 2 C apple cider vinegar
Directions:
- Peel grapefruits and lemon using a vegetable peeler. Try to remove and discard as much of the pith as possible (it makes the liquid bitter).
- Roughly chop the flesh of the grapefruits and lemon. 
- Combine cut fruit and peelings in a large jar or glass bowl and toss with sugar.
- Cover the mixture with lid or plastic wrap and allow it to sit at room temperature for 24 hours.
- Add apple cider vinegar to fruit mixture and give it a stir.
- Cover mixture again and allow it to sit at room temperature for another 24-48 hours. The more time you give it, the more complex the flavor will end up being.
- Strain fruit and vinegar mixture through a fine mesh sieve. Transfer the juice (that's your shrub!) to a glass jar and keep it refrigerated. Add an ounce or two to seltzer or mixed drinks as you please.

If you prefer to go the low-alcohol route, below are a few delicious bottles of wine in our shop that will do the  trick.
LOW ALCOHOL WINES
• Cantina di Carpi e Sorbara 'Piazza Grande' Lambrusco | Italy
• Zajc 'Cviček' | Slovenia
• Ameztoi Txakolina | Spain
• Keush 'Origins' Sparkling Wine | Armenia
• Weingut Stadt Krems Riesling | Austria