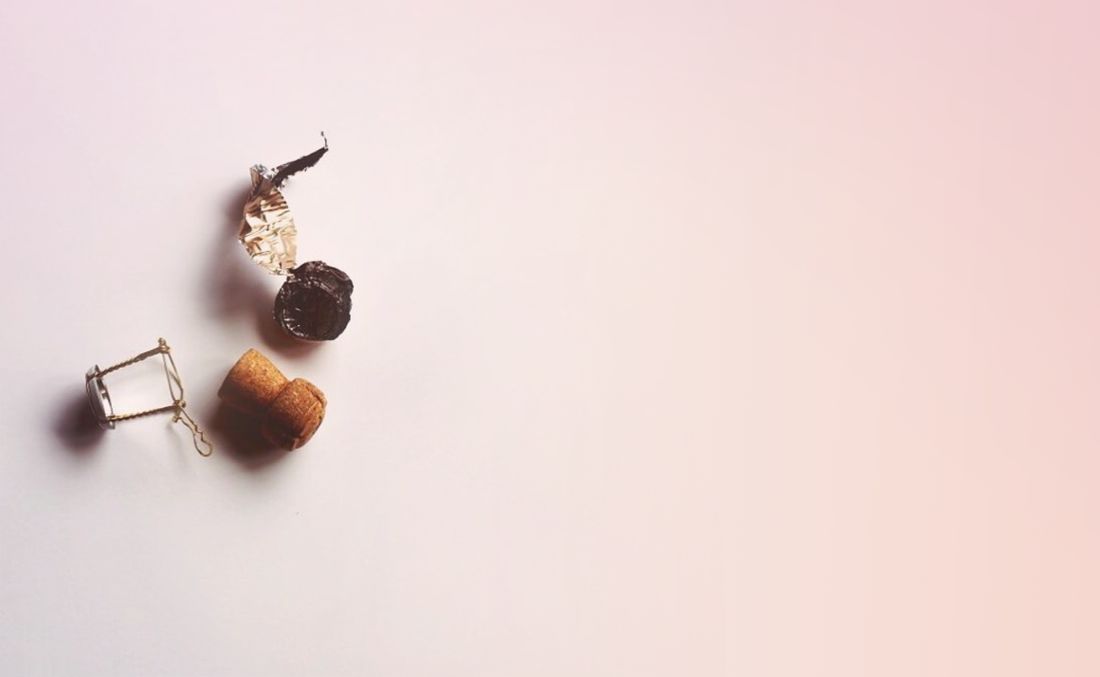 Photo: Emily Rentsch
All that sparkles is not Champagne.
Sure, Champagne is the most popular kid in the bunch, but there's a whole glittering world of sparkling wines out there that are delightful in their own right. The real trick is deciphering their differences and choosing a style you'll love.
This little guide will give you tools to help you choose your next bottle of bubbly with confidence. We'll run through the big three (Champagne, Prosecco, and cava) and give you tips on what to look for when you're in the sparkling wine aisle. As with many niche sets of knowledge, it's all in knowing the lingo!
New Year's Eve—a.k.a. Champagne's Big Day—is nigh, but I hope a look at this vast world of sparkling wine inspires you to crack open a bottle of bubbly on a simple Tuesday night, or whenever you're feeling a fizzy vibe. There's so much to explore beyond the cliché luxury of Champagne. So, let's get to it!

CHAMPAGNE | France


Champagne is a heavily regulated sparkling wine. In order to preserve its integrity and caché, the French implemented a LOT of rules surrounding its production. Here's the gist: Champagne can only be labeled as such if it is made in the Champagne region of France; it can only be composed of a combination of Pinot Noir, Chardonnay, and Pinot Meunier grapes; Champagne must be produced using the méthode champenoise.
The méthode champenoise (also known as méthode traditionelle) is crucial. It is characterized by two different fermentations. The first one happens in a big ole tank. Then, sugar and yeasts are added to the wine and a second fermentation takes place inside the wine bottle, on the lees (meaning with the grape skins and seeds), producing all of those happy carbon dioxide bubbles.
During this second fermentation, the wine bottles go through a months-long process called tirage, where the bottles are gradually turned and tipped by hand, encouraging the sediment to collect in the necks of the bottles. Eventually, the bottles are flash frozen, the sediment is quickly removed, and the bottles are corked and ready to rock.
What makes this method special is that the extended time on the lees gives Champagne a uniquely rich and complex flavor profile. Bottle fermentation also produces the luxurious, mousse-like bubbles that make Champagne a joy to drink.
IN A NUTSHELL
• Has to come from Champagne, France
• Made from Pinot Noir, Chardonnay, and Pinot Meunier grapes
• Fermented twice, on the lees, giving it a complexity and depth unlike other sparkling wines
• Can age—stick Champagne in your cellar!
• FLAVOR PROFILE: Yeasty (from all those lees!), biscuity, rich, with notes of toffee and brioche
• LABEL TALK: "Blanc de blanc" means the wine is made only from Chardonnay grapes and "blanc de noirs" is made only from Pinot Noir + Pinot Meunier grapes (the black grapes of the bunch)
• PRICE POINT: $$$
• TRY THIS: Voirin-Jumel '1er Cru à Cramant' Blanc de Noirs Brut
PROSECCO | Italy

Maybe you know Prosecco best by its brunch-friendly status (mimosas, anyone?). But did you also know that, like Champagne, its production is heavily regulated? In order for Prosecco to be called "Prosecco," it must be made of Glera grapes and be produced in Northern Italy.
Unlike Champagne, however, Prosecco is made in the charmat method, which involves two fermentations, both in tanks, and never on the lees. Prosecco production is lightning fast compared to Champagne, and therefore much more affordable. Plus, its floral and citrusy brightness appeals to a wide range of folks. It's the perfect crowd pleaser!
IN A NUTSHELL
• Has to come from the Veneto Region of Italy
• Must be 85% composed of the grape Glera
• Fermented twice, both in tanks and NOT on the lees
• FLAVOR PROFILE: Floral, citrusy, lighter and often more fruit forward than Champagne
• LABEL TALK: The driest Proseccos are labeled "brut," while the sweetest are labeled "demi-sec."
• PRICE POINT: $
• TRY THIS: Marsuret 'San Boldo' Prosecco di Valdobbiadene Superiore Brut
CAVA | Spain

Ahh, cava. What a sneaky little sparkling wine! While cava is not regulated in the way of Prosecco and Champagne, it is typically produced in the same way that Champagne is, using the méthode traditionelle. Northeastern Spain is famous for making wonderful cavas that have oodles of character and food-friendly acidity.
The best part? Because the Spanish have mechanized the time-consuming process of tirage, many cavas are pretty darn affordable. Look for them on restaurant wine lists and revel in a delightful sparkling wine that doesn't break the bank.
IN A NUTSHELL
• No rules specifying where cava can be made, but Catalonia is most famous for it
• Made from a combination of Macabeo, Parellada, and Xarel.lo grapes (what a mouthful!)
• Made using the méthode traditionelle—just like Champagne—but it isn't aged as long on the lees
• Many cavas can be aged, so go ahead and save them!
• FLAVOR PROFILE: Citrusy, with good acidity and notes of melon and pear
• PRICE POINT: $
• TRY THIS: Cavas Masachs 'Mas Fi' Brut Cava
FINAL THOUGHTS

Just because a wine label doesn't say cava, Prosecco, or Champagne, doesn't mean it's not an amazing sparkler! Most less-famous wine growing regions boast their own sparkling wines. If you're in the German section, they're called sekt. In Portugal, it's espumante. And in South Africa, sparkling wine is called cap classique. 
The French also produce bubbles beyond Champagne! The word crémant on a label indicates a French wine that was made using the méthode traditionelle, just not in the Champagne region. In fact, Jansz Premium Rosé has all the hallmarks of a true Champagne, except that it hails from Tasmania. Pretty cool right? Don't exclude wines like these in your search for a delicious bubbly.
Now that you're incredibly informed on all things sparkling wine, head over to the Sip Better SHOP and flex your knowledge in our sparkling wine section. And most of all, ENJOY!
— Emily Rentsch