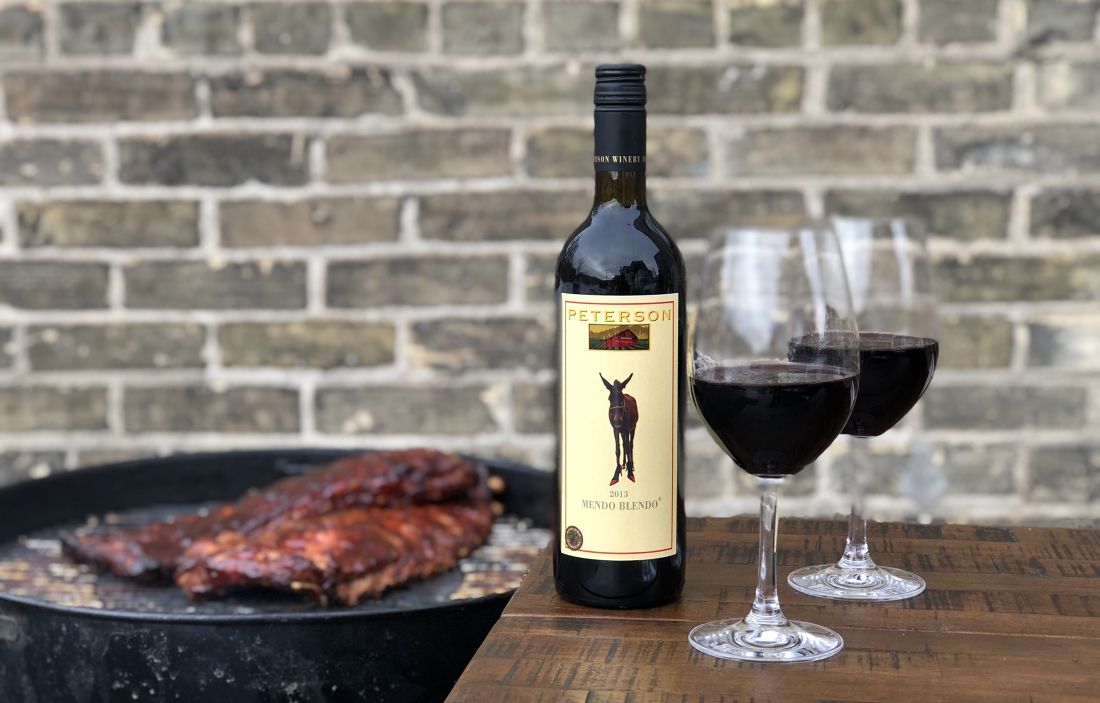 Photo: Vinnie Biskupic
Kansas City vs. San Francisco. A BBQ mecca vs. the wine capital of America. Don't know who to pick for tomorrow's big game? Here's a Super Bowl pairing we can all cheer for! 
KC-style barbecue is known for its dry-rubbed and smoked meats that are slathered in thick tomato and molasses based barbecue sauces. For a dish with smoke, spice, and savory sweetness we want a wine to match those classic tailgate flavors. Turns out Northern California pumps out some killer barbecue wine with higher tannins to cut through that melt-in-your-mouth fatty meat.
KC-Style Spareribs
Created by Vinnie Biskupic
*Pair to Peterson 'Mendo Blendo' 2013 Petite Syrah, Syrah, Carignane, Grenache| Sonoma, California
*Check out our other Football wine recommendations in the "What Your Tailgate Life is Missing" Shop Page
Ingredients
Three Slabs of Spare Ribs
Kansas City Dry Rub:
3 cups brown sugar 
3/4 cup dried mustard 
1 tablespoon ancho chili powder 
2 teaspoons cayenne pepper
2 tablespoon smoked paprika 
2 tablespoon garlic powder 
2 tablespoon onion powder 
2 tablespoon salt 
1 tablespoon black pepper
Kansas City BBQ Sauce:
2 tablespoons vegetable oil
6 cloves crushed  garlic 
1 cup tomato paste
1/2 cup dark brown sugar 
2/3 cup apple cider vinegar 
1/4 cup molasses 
1/2 teaspoon ancho chili pepper 
1/4 teaspoon smoked paprika 
1 tablespoon soy sauce 
1 tablespoon Worcestershire sauce 
2 teaspoons dried mustard 
1 teaspoon salt
Method: 
Mix together dry-rub ingredients until well blended. Generously massage rib slabs and refrigerate overnight. 

Prepare bbq sauce in a small sauce pan on medium heat, heat the oil. Add crushed garlic and dry ingredients, stirring constantly as the ingredients perfume. Add wet ingredients and reduce heat to simmer for 45 min as ingredients thicken.  

Preheat smoker or charcoal grill with indirect heat to 250 degrees. Add damp wood chips (we used pecan) to embers before adding ribs to indirect heat portion of the grill with a drip tray underneath to prevent flare-ups. Smoke for one hour, basting the ribs with bbq sauce every 30 min. 

Transfer ribs to an oven preheated to 350 degrees. Cook for 2-3 hrs, continuing to baste the ribs with bbq sauce every 30 min. 

When the ribs are done, the meat will be tender enough to tear by hand and the ends of the rib bones will be exposed.