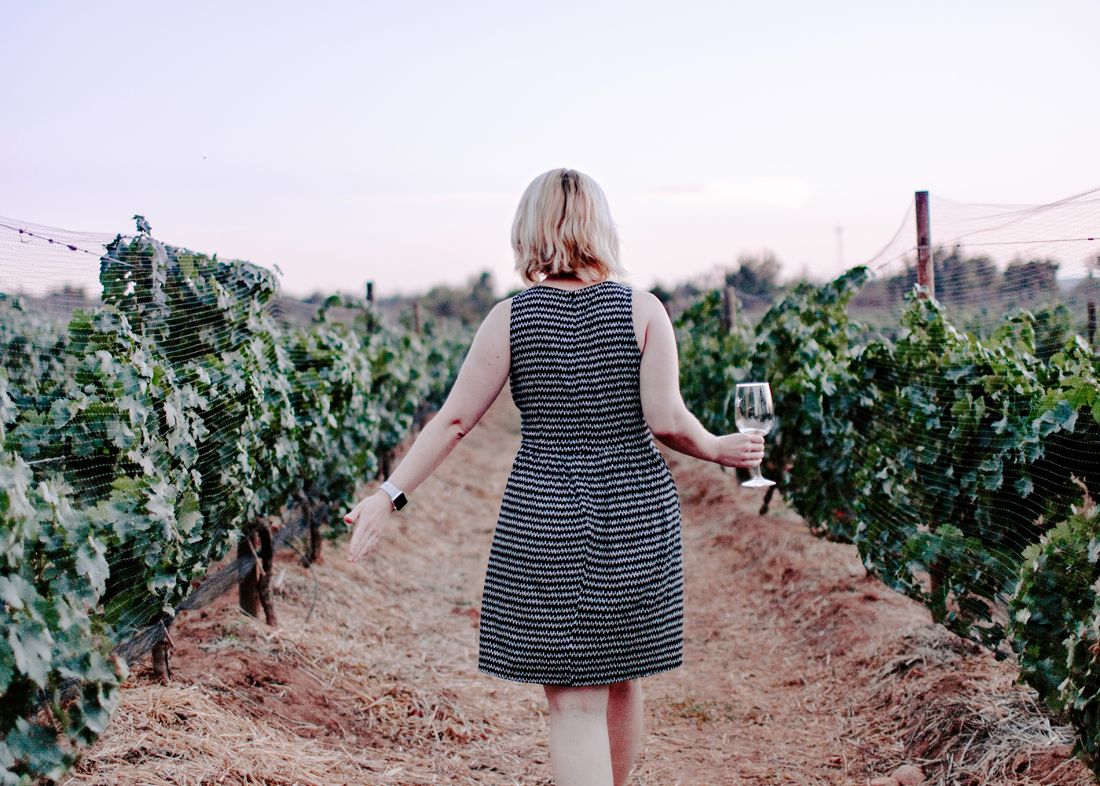 Photo: Trevor Gerzen
There are all sorts of wine buzzwords on the wind these days, but one that you might hear floating around more than usual is the term "natural wine." Um, what?! The word "natural" means different things to different people. And it also applies to all sorts of different things in the world. So...what makes a wine natural? Let's dig in.
I like to tell my wine students and friends that they should think about wine in the same way that they think about food. Some foods are whole, untouched, and come from pesticide-free land. Like an organic Honeycrisp apple! Other foods are processed and packaged, include preservatives, lots of salt, and other things that might enhance the food's flavor or shelf life. Like, say, Cheez-Its!
Now whether you reach for the Honeycrisp apple or the Cheez-Its (or both!), you make your decision based on having lots of information about how each food is made. Right? It's the same with wine!
There is a group of wines out there that are made to taste exactly the same during each round of production. A winemaker (or production facility, eek!) might add tartaric acid to a wine to balance sweetness, or sugar if a wine is too acidic. To achieve the illusion of a barrel-aged Chardonnay, a winemaker might toss in a little oak essence (a.k.a. Oak extract). If a wine isn't quite red enough, a dash of Mega Purple (yikes!) will punch up the pink. In fact, there are 60 government-approved additives that winemakers are allowed to use to enhance their wine's flavor, texture, and color. Kind of a crazy statistic, right?
Natural wines, on the other hand, prioritize a more traditional style of winemaking. Instead of producing wines like soda pop, natural winemakers strive to farm their grapes organically and/or biodynamically, and they use as little intervention as possible throughout the winemaking process. Basically? These winemakers are hands-off! They let each individual wine "live" and develop on its own, with the help of whatever microbes and yeasts organically occur in the soil and in the air and on the grapes.
Natural wines tend to be much more fun to discover. Their flavors and textures are subject to the whims of nature and so they are dynamic! Complex! Surprising! I believe that natural wines embody the integrity of wine in general. They are the true expression of a winemaker's respect for his or her land and the fruit it bears. 
Now that you're armed with some knowledge, there's just one little catch--even if you know what makes a natural wine, it's difficult to find one on the shelf. That's because winemakers are not required to list the ingredients they use, nor do they need to stamp the word NATURAL or PROCESSED (or anything at all, really) on the label. What's a wine drinker to do?
Allow me to guide you! I've been in the business for a while now (ahem, 25 years!), so I'd be thrilled to point you toward some delicious bottles. In fact, every wine in the Sip Better Wine Club is natural. I make sure of it. Reach out to me on social media if you have a question! And consider becoming a club member so I can choose exciting natural wines for you whenever you're feeling thirsty.
But in the meantime...here are some fantastic natural options to get you started:


RED
• Broc Cellars "Love Red" | California
• Domaine La Manarine "Le Carignan" | France
• Puzelat-Bonhomme "Le TelQuel" | France  *Available to Sip Better club members only*
WHITE
• Keush "Origins" | Armenia
• Weingut Gritsch Mauritiushof "Kalmuck Federspiel" | Austria
• Pfeffingen Scheurebe | Germany  *Available to Sip Better club members only*
ROSÉ
• Bonny Doon "Vin Gris de Cigare" Rosé | California
• Clos Cibonne Tibouren Rosé | France
* An excellent resource for all things natural wine is the website and movement called Raw Wine. Check it out and keep learning! *