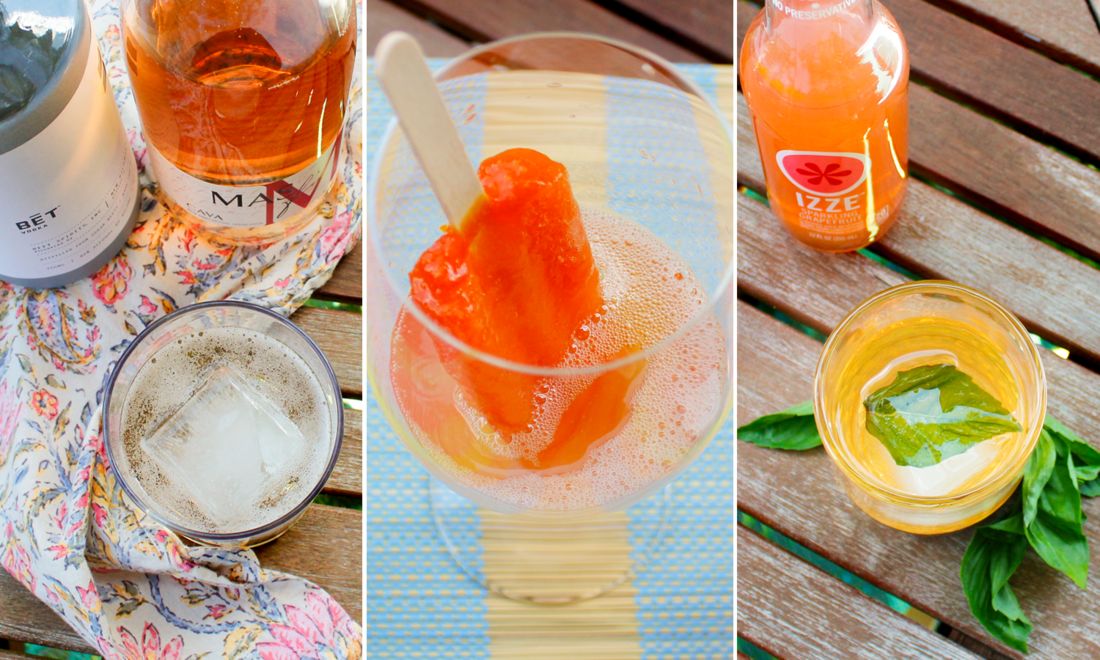 Photo: Emily Rentsch
Picture it: The sun is burning high in the sky. You're lounging on a colorful beach towel, listening to the tinkling sounds of children laughing in the background as your skin slowly warms. The hazy blue line of the ocean waves at you in the distance. You've got a good book nearby. You're all SPF-ed up. And you're sipping on a little pink wine from your canteen. It's the perfect day.
Perfect, that is, until you get dehydrated. Gasp!
Nothing goes better with the summer sun than a glass of crisp wine. But this delectable combo can be a little lethal when you're not watching your water intake. Luckily, there's a simple and delicious way to keep that from happening.
Say hello to hydrating wine cocktails! Below you'll find three easy recipes for some wine-based beverages that will keep you feeling healthy and sober while still enjoying the season.
And when I say "recipes," I really mean loose instructions. Feel free to make these cocktails your own! Add fresh mint, rosemary, or fruit. Switch things up and let me know how you like them on the Sip Better Facebook page or on Instagram!


CAVA VODKA SODA
Serves 1 (pictured above, left)
Ingredients:
- 1.5 oz of your favorite vodka (I like the Midwest-made BET) or gin
- 2 oz of soda water (or tonic if you like it sweeter)
- Cavas Masachs 'Mas Fi' Brut Cava Rosé
- A big ice cube
- Optional: lime wedge to garnish
Instructions:
Pour the vodka over the ice cube in a lowball glass.
Add the soda water.
Top with Cava to taste.


POPSICLE SPARKLER
Serves 1 (pictured above, center)
Ingredients:

- Your favorite fruit pop. I like the Outshine popsicles--they're pure fruit!
- Emendis 'Nuallongé Brut Rosé Cava
- Wine glass or whatever you have handy
Instructions:
Unwrap the popsicle and stick it into the wine glass with the stick facing up.
Pour a good glug of Cava into the glass.
Let the popsicle start to melt and slowly sip the slurry.


GRAPEFRUIT WINE SPRITZER
Serves 1 (pictured above, right)
Ingredients:
- 2 oz of Txacolina 
- One bottle of Izze Grapefruit sparkling juice
- One big basil ice cube**
Instructions:
Place the ice cube in a lowball or stemless wine glass.
Add 2 oz of the Txacolina wine. Top with grapefruit sparkling juice to taste.
As the ice melts, the basil leaf will slowly add to the flavor.
**To make the ice cube: Place a single basil leaf into each square of a giant ice cube tray. Add water to the tray making sure that the basil leaves are fully submerged. Freeze the cubes. Add to your favorite beverages at will!