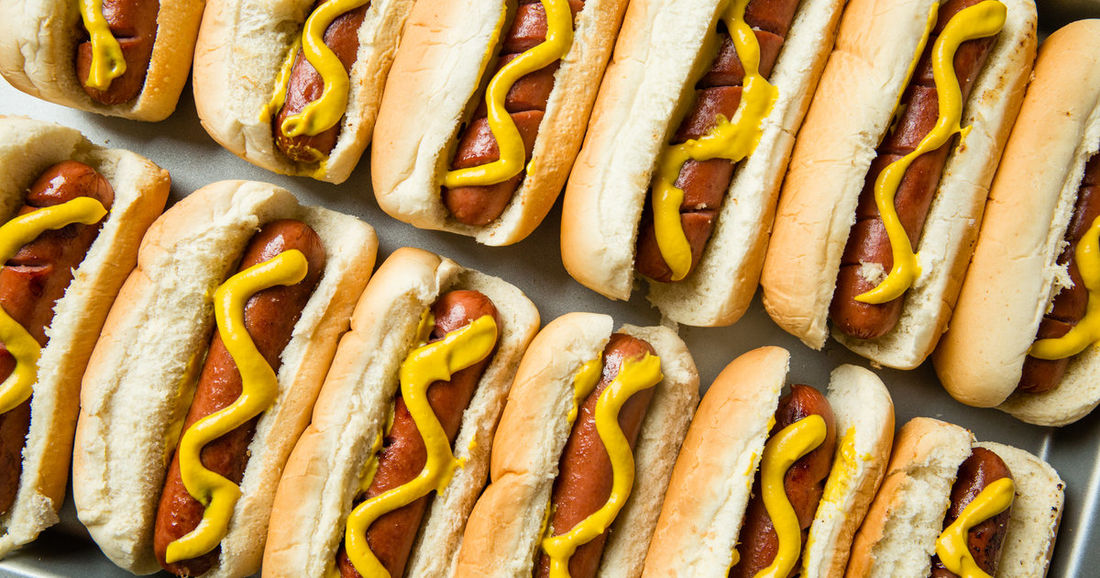 Photo: Cole Saladino / Thrillist
From bratwurst to polish sausage, to good ole fashioned wieners, Americans have enjoyed the almighty hot dog since 1871, when a German baker by the name of Charles Feltman opened up the first Coney Island hot dog stand. He sold a whopping 3,684 sausages, served in a milk roll, in his first year of business.
Hot dogs have been a summer staple ever since. And while beer has been the usual favorite when it comes to pairing a libation to a hot dog, wine just might be the better choice depending on the style of wiener you're reaching for.
Here are ten grape alternatives to pair with your next hot dog:

Gamay. Ahhh, right! One of best known not-so-well-known grapes on the planet. Most Americans associate the Gamay grape with the region of Beaujolais, and of course, Beaujolais Nouveau (a completely different animal all together). In fact, we can thank Gamay for producing some of the most ethereal, delicious light-bodied reds in France. The gorgeous little region of Beaujolais and its upper tiered status (crus) produce some of my favorite reds in the world. Try this one on for size: Kermit Lynch's 2015 Beaujolais – a wine that exudes dark, rich blackberry fruit popped by notes of black pepper and spice making this beaut the perfect pairing to bratwurst and good ole fashioned wieners hot off the grill!
Zinfandel. Yes, the grape we adore oh so much in the northern parts of California. Hailing mainly from the Sonoma Valley, Zinfandel has the gorgeous ability to pair to a variety of smoked or grilled dogs due to its weight and boozy structured. Although it grows beautifully in the north, I'm a fan of its Paso Robles roots as well. Try this one from the region: Force of Nature Zinfandel from Rob Murray Vineyards. Dark and dreamy, and marked by a super cool label (great for gift giving)!
Syrah. How could we forget the king of pork? I like to call Syrah the "piggy grape." From grilled to sauced, Syrah is the answer to pork because of the intense black pepper, pork belly aromas the grape can display. Sip this juicy little gem from its birthplace of Rhone, France all the way into California, Washington, Australia, South Africa and beyond. Check out the South African section for a variety with a smokier flare.
Malbec. Of course, we can't forget one of the world's most lovable grapes: Malbec! While most believe that Malbec is South America's grape, it did in fact grow up in southern France. From Bordeaux to Cahors, these stunning picturesque regions produce some of the most structured Malbecs you're likely to lay your lips on. Give Cahors a chance and break from the Argentine section for just a second to discover the real grit behind this blue fruited, spiced grape.
Merlot. Ladies and Gents, may I introduce the Queen! Lovely, lovely Merlot. This grape is still clawing her way back to the top (at least in the U.S.) since Pinot Noir and the movie Sideways threw her to the wayside. Merlot, for me, is the answer to a lot of delicious pork dishes. Whether it be grilled, smoked or sauced, I love the soft feminine touch of violet, dried rose petal and spice this grape can display amidst often lush blackberry, raspberry jam notes. Merlot is a grape well worth reacquainting yourself with if it's not in your wheelhouse already. Try the cute little commune of Saint-Émilion for some of my faves!
Tempranillo. Love a Chorizo dog as much as I do? Well, you're gonna need Tempranillo for that! When pairing regional foods, don't forget the old adage: What Grows Together Goes Together. Select a grape from the same region as your meal to make it a perfect pairing. Head into a region like Toro, Spain if you're looking for a little more heft to your Tempranillo. (P.S. The grape is known as Tinto de Toro in this region.)
Dolcetto. This grape's Italian moniker means "little sweet one." But don't let its name fool you, as it is nowhere near sweet. Soft and juicy, this medium-bodied red is loaded with alluring notes of violets, raspberry, coffee and chocolate covered cherries. A great grape for pairing to those fennel-laced Italian sausages.
Riesling. Love your dog super spicy? Then THIS is your grape. From white sausages (like chicken or turkey) to dogs stacked high with pickled peppers, relish and jalapeños, Riesling is your gal. My advice? Go straight to the German section and get to it (Pfeffingen is always one of my favorites).
Pinot Gris. I love me a fat rich Pinot Gris from the region of Alsace, France when enjoying a plate of Kielbasa. The rich honey-like flavors of Pinot Gris, backed by all its apple, pear and peach make this grape a perfect pairing to all those white meat sausages as well. Try out a chicken, green apple, Gouda dog with an Alsatian Pinot Gris. Specifically, try producer Marcel Deiss. He's been one of my favorites for almost 20 years.
Last but not least: Sparkling! In fact, I suggest you head straight into the region of Champagne. Yeah, I know it's a bit bougie for a simple cook out, but why not go wild? Especially if you're grilling up some tofu dogs, a dog made with seafood, or even something spicy like the Chorizo dog I mentioned earlier. THIS, people, is the way to go. Go Champagne, or go home!