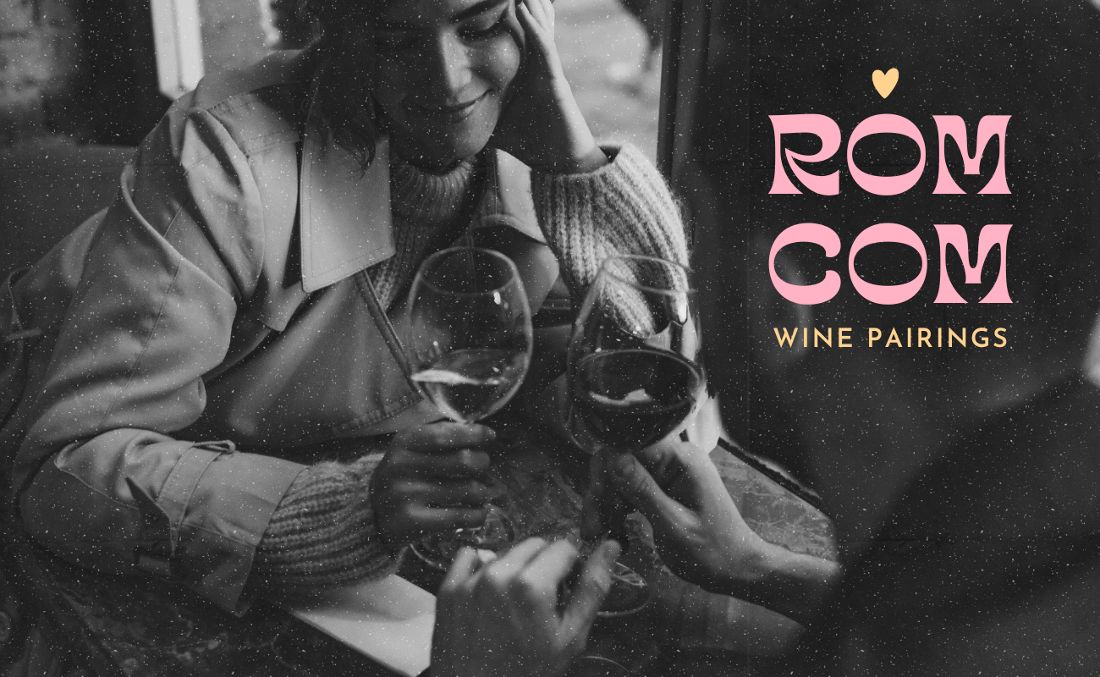 Photo: Roman Odintsov via Pexels
The Month of Love has arrived! And we're leaning in hard with some cheeky wine pairings to our favorite rom coms, one from each recent decade. What could be more fun? No matter who you're sunggling up with in front of the screen, we hope these sweet and goofy Valentine's Day pairings make you smile for a while. Enjoy!
Remember that pretty, glowing final scene where Sam and Jake Ryan finally kiss over a classic birthday cake? Of course you do! It's truly what teenage dreams are made of. Here are a few frothy wines to pair to your favorite cake for Valentine's Day.
- Elio Perrone 'Bigaro' | Naturally a bit sweet, this strawberry-scented sparkler is beautiful with buttercream and dense chocolate cake
- Meinklang Frizzanted Rosé | A little dry, a little sweet, this Austrian bubbly cuts through buttery richness and cream cheese frosting
- Hush Heath 'Balfour 1503' Sparkling Brut Rosé | Delightful English Champagne-style sparkling wine, a friend to dessert all kinds
There's so much to love about Julia Roberts in Pretty Woman, but it doesn't get much cuter than her escargot faux pas in a fancy restaurant! Read on for our favorite Pinot Noirs to drink with buttery French snails. After all, Burgundy is home to both!
- Spy Valley Pinot Noir | A light and floral Pinot from New Zealand, with cherry notes tempered by a savory note
- Peter Zemmer 'Rollhütt' Pinot Noir | Zippy Italian Pinot Noir to pair with every savory morsel
- Maison Drouhin 'Santenay' Pinot Noir | With an intense nose of black and blue fruit, this French Pinot is great with earthy flavors
Watching Kate Hudson go head-to-head with Matthew McConaughey is a riot, and the hijinks reach a true fever pitch when she cries vegan tears at his decadent lamb dinner. All of the following wines do double duty as a friend to both roasted lamb main dishes AND savory vegetable-based meals full of mushrooms, eggplant, and more.
- E. Guigal Crozes-Hermitage Rouge | A deep and structured Syrah from France
- Bodega Akutain Crianza | Spanish Tempranillo with notes of prune, plum, herbs, and vanilla 
- Chateau la Canorgue Rouge | A spicy, roasty Syrah blend from the Luberon region of France
You know where we're going with this one! The dress shop catastrophe in this film is the stuff of hilarious nightmares! And while the literal bridesmaids were suffering from seafood-induced food poisoning, it's not off the menu for us. Read on for some of our favorite wines to sip with seafood of all sorts.
- Dopff & Irions 'Crustaces'| Bright with apple, white florals and white pepper. Drink this with lobster, shrimp and crawfish.
- Domaine Guillaume Cabrol Picpoul de Pinet| Crisp citrus and floral freshness make this French white great with shellfish.
- Domaine des Cognettes Muscadet-Sèvre et Maine 'Selection' | Zesty and briny with just a shade of richness. Drink with oysters!
In this edgy new romantic comedy in the style of Groundhog Day, sunshine is truly the star of the screen. Let's drink to that! Tuck in to one of these whites and feel the sun shine on your face.
- Rodica Malvasia | This Slovenian wine has a fruity, peachy character balanced by acidity. Pair with grilled fish, pasta and charcuterie.
- Kermit Lynch Lacrima di Morro d'Alba | Notes of strawberry, stewed rhubarb, and leafy herbs. Serve slightly chilled!
- G.D. Vajra 'Claré J.C.' Nebbiolo | Fresh and crunchy Nebbiolo to keep in your refrigerator all year. Pairs well to summer picnic foods!