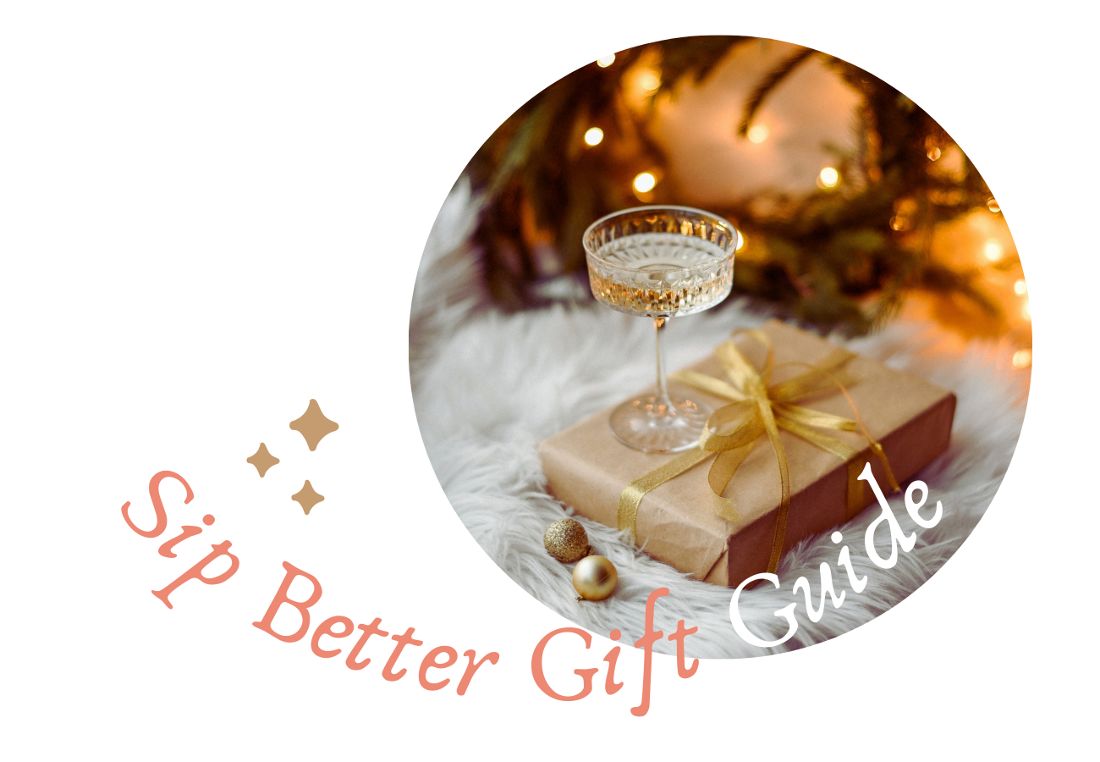 Photo: Kateryna Hliznits via Unsplash
Welcome to your liquid gift guide! This big ole list of some Sip Better favorite wines will give you a great start to your holiday shopping. There's something for everyone to sip on this list, including your non-wine-drinking friends and family. Peruse, shop, and enjoy!
THE TRAVELER WHO LOVES TO ENTERTAIN
Bodega Summetrîa 'Eje'| Mexico
A little taste of Mexico in a glass! This textured and alluring red will satisfy wine drinkers with big, bold tastes and wander lust.
Loosen Bros. 'Dr. L' Sekt | Germany
This sparkling Riesling (yup!) tastes delicious with just about anything, which makes it right at home at a feast. It's the perfect bottle to pull out when you've got guests on their way over.
Pullus 'Halozan' | Slovenia
If your giftee truly loves to entertain a crowd, you can't go wrong with this LITER sized bottle of this floral and bright white!
THE HEALTH CONSCIOUS IMBIBER
Ameztoi Txakolina | Spain
A crisp and slightly spritzy white with zero grams of sugar and super low ABV. Perfect for guilt-free guzzling!
Keush Origins | Armenia
This sparkler from Armenia is fresh and crisp with a creamy, yeasty center from its 18 months aged on the lees.
Zajc 'Cvicek' | Slovenia
Even though it has a low ABV, this light and minerally red is full of punchy berry and cherry that plays well with most foods.
THE ANYTHING-BUT-WINE DRINKER
NON 1 Salted Raspberry & Chamomile | Availabile at our brick-and-mortar
This tea-based non-alcoholic sparkling beverage offers all the complexity of wine without the booze! Great for the non-drinker or sober curious person in your life.
Canella Bellini + Canella Blood Orange Mimosa | Italy
Brunch-ready blends of fruity Prosecco and fruit juice—at just 5% ABV—perfect for popping with friends in the new year.
St. Agrestis Negroni | New York
A ready-to-serve version of the classic bitter cocktail. Gift it to friends who love mixology but are short on time.
THE THIRSTY THRIFTER WHO LOVES A DEAL
Cavas Masachs 'Mas Fi' Brut Cava | Spain
Cava is almost always easy on the pocketbook, and this one's no exception. It's a wonderfully refreshing sparkling wine for under $13!
Henry Varnay Rosé Sec | France
Pink French bubbles at an unbeatable price point! And once your giftee tastes it, they'll want to make sure they always have a bottle in the fridge for feeling fancy.
Rare Wine Co. Historic Series 'New York' Malmsey Special Reserve Madeira| Madeira
While this bottle of rich fortified wine is a little spendy, it lasts foreverrrr. Once you pop this 750ml of Madeira, you can keep it on your bar cart for infinity and it'll still taste great (Okay, maybe drink it within 3 years. You can do it!)
THE WANNABE SOMM
Domaine des Cognettes Muscadet-Sèvre et Maine 'Selection' | France
This one will have your friends longing for the beach and it's one of our sommelier, Leslee's, favorite high-acid whites. Fresh, bright and briny, it's a perfect food wine and tastes especially divine with oysters.
Guido Porro Guido Porro, Langhe 'Camilu' Nebbiolo | Italy
This is Leslee's current obsession: dark and lusty Nebbiolo that will transport you to Italy, just in time for the winter months.
A set of Riedel wine glasses or a decanter | Available at our brick-and-mortar
There's nothing like sipping from a Riedel glass! Their glasses are designed to amplify aromas, so every nerdy wine drinker needs Riedel in their life.