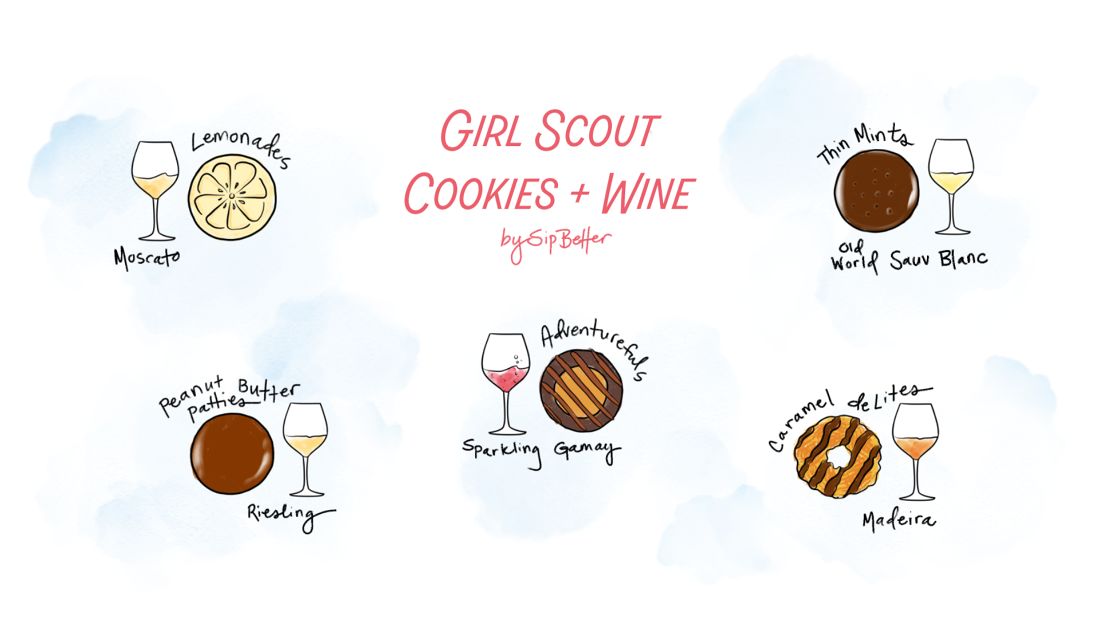 Photo: Emily Rentsch
You know that cold, gray period of time that drags on between Valentine's Day and summertime fun? That's Girl Scout cookie season! Cookies make a long winter much brighter, and if you add wine into the mix? Life is good.
We paired wine to five classic Girl Scout cookies, including their newest one, the Adventureful. Enjoy!


This delicately crunchy biscuit is frosted with the thinnest slip of zesty lemon glaze. So happy and bright! Pair it to Foris Moscato, a wickedly fresh and bright Oregon white with major key lime pie vibes. And it's only 7% alcohol!


Ahh, Thin Mints! Is there anyone out there who doesn't crave this cookie?! Devour a sleeve of them with the Clément et Florian Berthier Coteaux du Giennois, an Old World Sauvignon Blanc with lovely acidity and notes of grapefruit, white pepper, and—of course—mint.
The new Girl Scout cookie, the Adventureful, is a caramel-covered riff on a brownie. Its toasty graham and toffee notes play perfectly with this frothy, pink, and slightly sweet sparkling Gamay. Guaranteed to make you smile!
This semi dry Riesling from the Finger Lakes is perfect with peanut butter! It is both delicate and ripe with apricot and pineapple, which pull out the sweetness of this chocolate-covered cutie.
My personal favorite! I love the chewy texture and nutty nature of these cookies. This particular Madeira's dark, fruit cake-like spices underline the warm richness of the cookies without adding to their sweetness. SO good!


*Purchase Girl Scout cookies from your local chapter here!

—Emily Rentsch