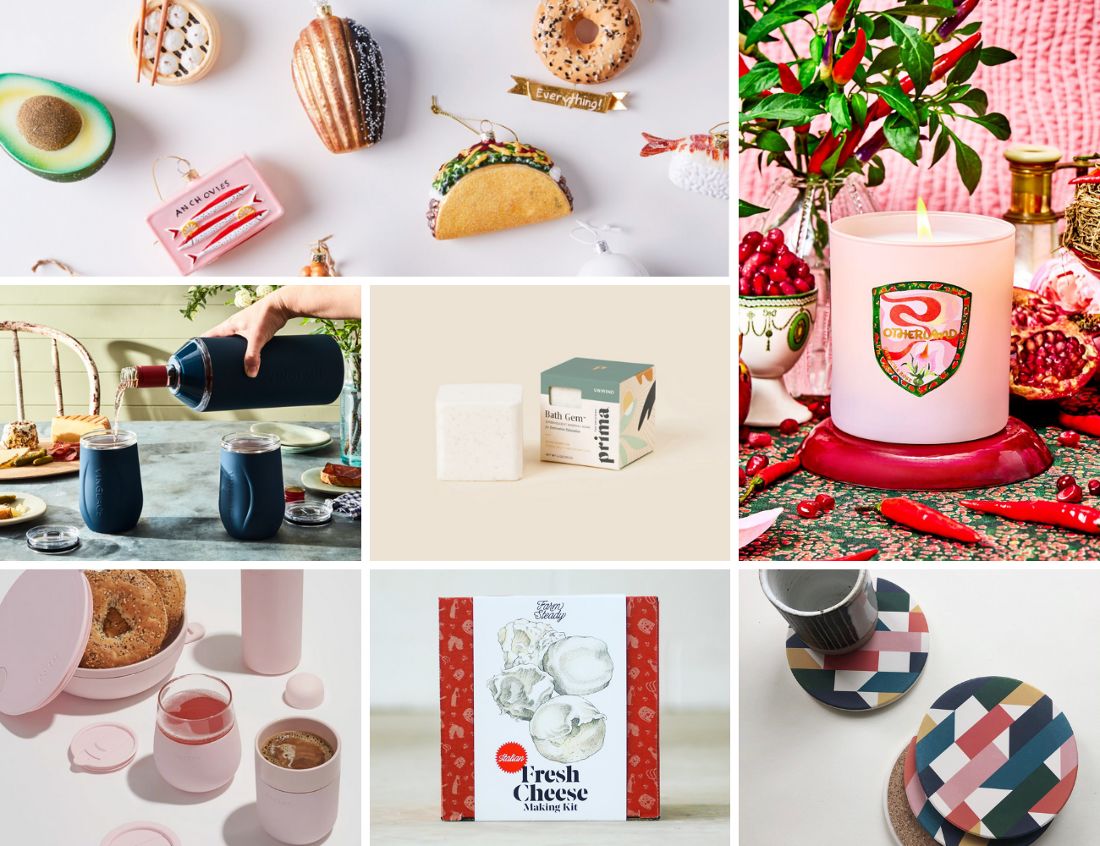 Photo: Clockwise from top left: Food52 / Otherland / Etsy / Farm Steady / W&P / Food52 / Prima
Hellooo, Gift Giving Season! 
If you're already thinking about what to bestow upon your food- and drink-loving friends this holiday season, take a load off. We're here to guide you! Here is a juicy list of delicious, beautiful, and well-crafted goods that we think will delight you AND the people you love. Enjoy!
GIFTS UNDER $25
VINTAGE-INSPIRED FOOD ORNAMENTS | $16 each, from Food52
These perfectly gaudy and nostalgic tree ornaments are hard not to smile at. From sushi to pickles to whole sticks of butter, you're sure to find a mouth-watering ornament for just about anyone on your list.
BATH GEM 25mg CBD BATH SOAK| $15 each, from Prima
Holy relaxation! This giant bath bomb will not only limber up your limbs and clear your mind, but it'll make your skin oh so silky smooth. A must-have for any self-care junkie.
NAIL ART STICKERS | $7.50, from Olive & June
These whimsical but understated nail stickers would be the CUTEST stocking stuffer! We're particularly fond of the snack time pack, complete with pretzels, donuts, and ice cream cones.
WINE: A GRAPHIC HISTORY | $21, from Amazon and other booksellers
For the wine/art/history lover, all at once! This illustrated history of wine—from its origins to the 21st century—is a total treat and a fun way to nerd out.
GIFTS FROM $25 — $50


SRIRACHA ROSE CANDLE | $36, from Otherland
A vegan, hand-poured candle laced with spicy notes of chili flake, Bulgarian rose, and pomegranate. Are you intrigued, or what? Plus, the packaging is to die for.
VINGLACÉ WINE BOTTLE CHILLER AND/OR WINE GLASS | $35 - $90, from Food52
Keep whites and rosés cool with these double-walled, vacuum-insulated wine chillers. Perfect for the patio entertainer and a hot summer's night.
ART DECO COASTERS | $32 for 4, from Tramake on Etsy
Support an artist AND beautify your table with these ultra cool ceramic and wood coasters found on Etsy.
CHEESE SEX DEATH: A BIBLE FOR THE CHEESE OBSESSED | price varies, pre-order only
If you love cheese and you don't follow @cheesesexdeath on Instagram, get your booty over there before you read another word! Cheese worshipper, Erika Kubick, has finally written an epic ode to cheese and it's sure to be a useful guide (with gorgeous photos) on how to love and enjoy the stinky stuff.
IGLOO HERITAGE BACKPACK 10.5 qt COOLER | $39.99, from Target
Outdoorsy foodies will love this one! It's a spacious and comfy backpack cooler with loads of compartments (for cheese and sundries) and a side pocket for a (wine)tumbler.
GATSBY CARAFE | $38, from Anthropologie
A tall and slinky glass carafe to serve sangria or iced tea from. Expect compliments.
ITALIAN FRESH CHEESE MAKING KIT | $30, from Farm Steady
Everything you need to craft your own mozzarella, burrata, ricotta and mascarpone. Just add milk!

GIFTS FROM $50 — $150


SIP BETTER WINE TASTING KIT| $56.96 - $58.96, from Sip Better!
Wine in a box! Choose one of our three-bottle tasting kits for a friend or loved one and send them on a palate exploration. Wine club membership NOT required. Black Friday Deal : Sign up for a tasting kit at Sip Better as a new member and receive one of our sister company, Cépage's new 2 bottle wine bags filled with hand crafted artisan goods from Cépage (valued $50)  Already a member? Gift a tasting kit to someone else and you will receive the Cépage gift bag. Use Promo Code: gratefulforgoodies.
PORTER CERAMIC FOOD STORAGE BUNDLE | $100 (sale price), from W&P
For your friend or family member who's working on becoming more eco-friendly. This set of portable food and drink ware is both reusable and extremely chic.
A CUSTOM GIFT BOX | starting at $70, from Cépage
Send the perfect box of goodies to a wine lover in your life! Choose from one of Cépage's curated boxes meant for snacking, relaxing, and more. OR! Create your own collection!
PIMA ROBE | $126, from Lake
A decadently soft robe that's casual enough to don every day. Made from 100% Pima cotton, which is composed from the longest, silkiest strands of cotton that are not only buttery soft but extremely strong.
Happy Holidays to you and yours!